A pair of beginning farmers in western Washington sing the praises of organics as they nurture their growing operation.
Organic farming runs deep for Jessica Gigot and Dean Luce—not ancestrally but in their commitment to a place, to a way of life, to producing food that's healthy for people, animals, and the environment. At Harmony Fields, their 10-acre farm in western Washington, the couple are raising sheep and two daughters as they develop markets for their cheeses, meat, and certified organic medicinal and culinary herbs. The first-generation farmers were determined and resourceful novices when they started Harmony Fields in 2011. They've been learning about the challenges beginning organic producers face and evolving their plans ever since.
The forking roads that lead through Bow, Washington, to Harmony Fields roll past apple orchards, berry patches, and hillside pastures. The lyrical beauty of the Skagit Valley is what attracted Gigot to move there about 15 years ago. She grew up in suburban Washington, where her dad worked in advertising and her mom tended to the home. Gigot moved to Vermont to study biology and anthropology in college, and then she returned to the Pacific Northwest, where she interned on a couple of farms. Her pursuit of a master's degree in plant pathology brought her to the Skagit Valley in 2004, and she continued on to get her doctorate in horticulture. Through her agricultural research at the Washington State University Mount Vernon Northwestern Washington Research & Extension Center, she got to know the local farmers and became inspired to join their ranks.
Gigot started growing some crops on a little "postage stamp" of land at Ralph's Greenhouse, a large-scale organic farm in Mount Vernon. In 2011, after earning her graduate degrees, she bought the 5-acre property in Bow that would become her and Luce's farm. It featured a 1930s farmhouse flanked by fruiting apple trees.
Originally from Bainbridge Island, Luce attended the Art Institute of Seattle for graphic design, worked in restaurants for a while, and then started doing construction. Luce and Gigot—who now have two daughters (ages 4 and 2)—met in a bar during a singer-songwriter series and started playing music together. Today, he keeps busy caring for their children and handling projects on and outside of the farm, and she manages many daily farm operations and teaches college classes during the winter. Since 2018, she's been a member of the Organic Farmers Association Governing Council.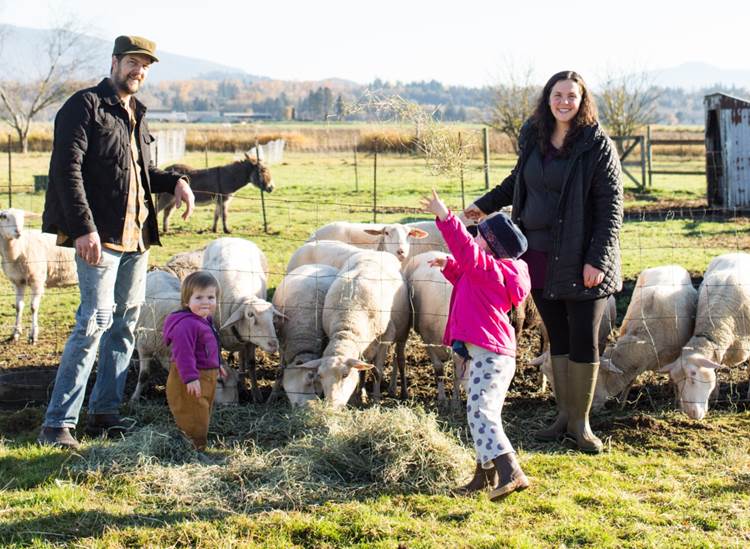 Finding Direction
Gigot and Luce each have a calm, nurturing presence that matches the serenity of their surroundings. But Gigot admits she had second thoughts shortly after buying the farm. In the beginning, Luce wasn't living there yet, and she started questioning whether she'd made the right choice to go into farming instead of research.
"It felt very overwhelming to go from being a renter to owning a home with property—I didn't even have a lawn mower," she says as we sip coffee at their bench-style, wooden dining table. "This place came with a tractor, and we had some tools already, but it was literally starting from ground zero."
For the first several years at the farm, the couple grew a variety of herbs and vegetables, mostly squash and brassica crops, for retail and wholesale vendors. After taking a season off to focus on their two girls, Gigot and Luce reevaluated their goals. Gigot says one of her first mistakes was trying to grow too many crops. Now they grow a dozen or so certified organic medicinal and culinary herbs and raise sheep, though they also have Khaki Campbell ducks for eggs and two adopted miniature donkeys named Audrey and July.
Their current flock of about 70 sheep includes a milking herd of about 30 that have been bred for qualities such as personality, milk production, and udder shape. During the spring and summer, when the farm is most active, Gigot splits her days between milking the sheep, tending to the crops, and making cheese. She and Luce launched the creamery with the help of a USDA Value Added Producer Grant, which was used to fund supplies, materials, and labor to make and sell the sheep cheese.
For the last year or so, they've been bringing their cheeses—soft, spreadable; feta-style; and aged, tomme-style varieties—to nearby farmers' markets. As their herd of sheep expands, Gigot plans to add yogurt and another type of cheese to their product offerings. Harmony Fields is also part of a cooperative that processes and packs its meat to USDA standards so the farm can sell directly to restaurants and local families. The sheep's wool is made into yarn and sold on the farm's website.
In 2016, the farmers converted a shipping container into an herb dryer with the assistance of a grant from the HumanLinks Foundation. Another recent grant helped pay for solar panels on the sheep barn. In total, they've received about $80,000 in grants that have made their vision for Harmony Fields possible.
Organic Ways
While Gigot and Luce needed a few seasons and shifts in their plans to find their niche as food producers, they never wavered from their dedication to organic farming. "For me, organic is about making a farm resilient and sustainable," Gigot says. "I also think that it's about farm models that protect the integrity of the animals, plants, and employees."
Right now, the herbs are the only certified organic products of the farm. The sheep are grazed on organic pastures, and the farm owners are working on making all of the livestock's feed and pasture certified organic. Raising a mix of animals and plants is important, Gigot says, because it completes the picture of a closed-loop farm.
"When you're using organic methods, you're not going to be able to put in a bunch of synthetic fertilizers," she says. "You're not going to be able to get any kind of available seed. You really have to work with the germplasm and soil health that you have, which is why I take the cultivation of our soil very seriously. And that's one of the reasons why we have animals—so we are able to [use their waste to build] fertility."
Gigot says the local farmers are good stewards of the land, and she's learned a lot about farming even from conventional operations. But she is trying to create an alternative to the current food system, which she believes has become more about production and convenience than quality and care going into what we eat.
"When I got into college and learned how to cook for myself, it really changed my whole perspective," she says. "Having that core knowledge of knowing where your food comes from, as well as the knowledge of how to connect with the animals and take care of them, raises strong and compassionate people, I think. I had a great upbringing, but I feel like for our daughters, being raised on a farm can teach so much about the world that I had to catch up on in my 20s."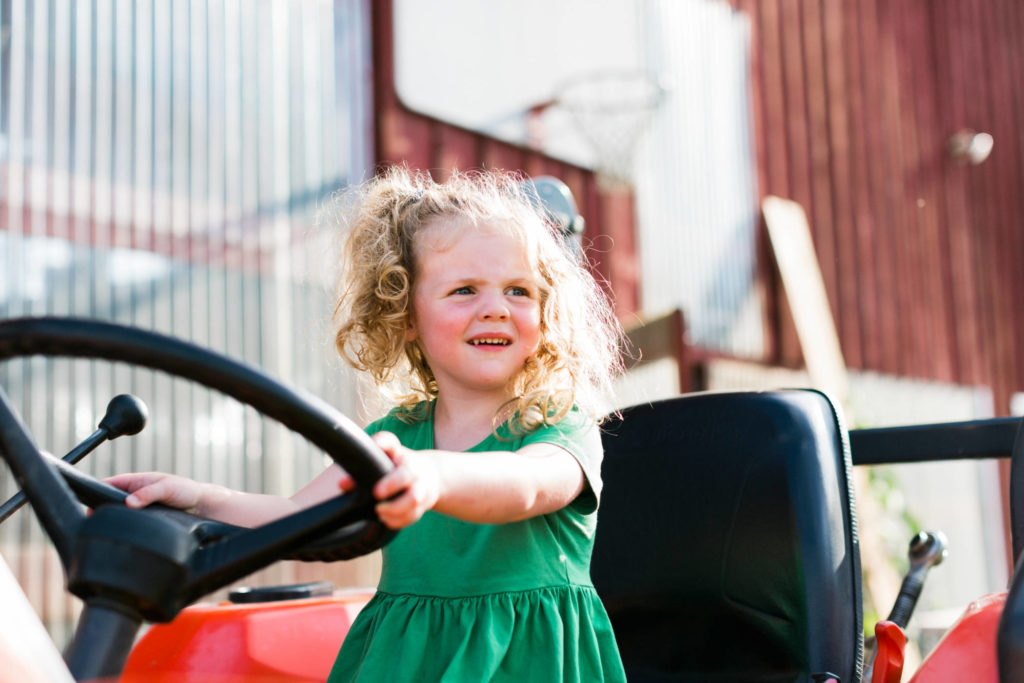 Balanced Life
Gigot jokes that she's the biggest cliché when you conjure romantic notions of farming: She writes epicurean poetry, is in a band with Luce called the Dovetails, and lives on this charming plot with her young family, including an energetic sheepdog and an eccentric farm cat. But she's careful not to devalue the hard work that goes into cultivating the land. She gave a TEDx talk about this a couple years ago at Western Washington University in Bellingham, where she read from her book of poetry and talked about the significance of not only seeing beauty in the food we eat but also understanding the true price that comes with growing it.
"I want people to connect to the beauty of it—the quality of the flavors and that everything was made with care—but I don't want people to think that we're just sort of waking up and wandering out here and picking a few things," she says. "The routine is hard, especially the milking routine, which is why we only do seasonal milking. I feel like it's worth it, but I don't want people to think it's easy."
Gigot has seen a lot of beginning farmers become overwhelmed and discouraged. She feels that way herself at times: that the work is so hard and that her and Luce's farm is so small that it's not making much of an impact. But then she is reminded of why they have made a commitment to organic farming.
"It just seems like our food systems could be a lot more compassionate," she says. "Even though we're doing that on a very small scale, I hope it's a vision of what could be done on a larger scale."
Support Systems
Public and nonprofit support for new organic farms is helping Harmony Fields grow and thrive. With $80,000 in grants, Jessica Gigot and Dean Luce have been able to expand their product line, extend the growing season, reduce energy costs, and speed up post-harvest processing. Here are the resources they have used.
CREDIT: "Northwest Farm Credit Services has an AgVision program focused on new producers under 35 years old," Gigot says. "That helped us with an initial operating line of credit."
TOOLS: The couple used a grant available through the Environmental Quality Incentives Program of the USDA's Natural Resources Conservation Service (NRCS) to get a high tunnel under which they grow herbs year-round.
ENERGY: The USDA's Rural Energy for America Program (REAP) provided a grant that helped cover the costs of solar panels on the farm's sheep barn.
PRODUCTION: With funding from the HumanLinks Foundation, a nonprofit based in Bellevue, Washington, the couple converted a used shipping container into an herb-drying shed that decreased the drying time from two weeks to three or four days.
EDUCATION: "I took the Cultivating Success classes at our local extension office through WSU," Gigot reports. "A local nonprofit, Northwest Agriculture Business Center, offered a value-added-product class that was very helpful."
For beginning farmers, the biggest challenge to accessing these resources is "making time to do the research and get all the paperwork organized," Gigot says. But you don't have to struggle through this on your own, she emphasizes.
"Use the resources you have around you, like your local NRCS or land-grant extension educators. They are there to help you," she advises. "Also, talk to other farmers (even in other parts of the country) that have received funding. This can save you a lot of steps."
Taking Action
As a small producer, Jessica Gigot knows it is hard for organic farmers to find the time and energy to address national policy issues, "even though they affect us all," she says. So she joined Organic Farmers Association, and in 2018, she was elected to the OFA Governing Council.
"I appreciate how OFA is committed to the National Organic Program (which took a long time to develop and come to fruition) and how instead of advocating alternative labels, the organization is trying to make the NOP work for [all organic producers] and maintain its integrity," she explains. "It also brings together the work of state and regional farm groups like MOFA and NOFA, and it helps us feel like a louder and more unified voice in DC."
Join forces with Gigot and thousands of other certified organic farmers by becoming a member of Organic Farmers Association.
COVID-19 is taking a toll on small farmers across the country. Learn more about how you can help support your local farmers here.
This article originally ran in the fall 2019 issue of New Farm Magazine, the magazine of the Organic Farmers Association. All OFA members receive a complimentary issue of New Farm annually. Join today.
For more updates on our research and programming, follow us on Facebook, Instagram, and Twitter.