Jumpstart your career in organic agriculture with an immersive training program led by some of the world's leading regenerative organic experts.
Rodale Institute's Farmer Training (RIFT) program is a crop and vegetable internship that gives aspiring farmers the knowledge and experience they need to start their regenerative organic career. Interns will experience the entire life cycle of an organic diversified crop and vegetable farm, while also learning how to distribute and increase access to healthy organic food.
The Basics
RIFT internships provide hands-on training in the skills necessary to operate a certified organic farm. Participants will be fully immersed in the day-to-day activities involved in a growing season, and spend time in a classroom setting for lectures from the experts in the field. In addition to the education in science and farming, interns will also receive an extensive education in agricultural budgeting and finances. This curriculum is designed to enable individuals with little-to-no farming experience to become fully capable farmers or farm managers in 2 years or less. Individuals interested in taking the next steps toward starting a career in regenerative organic agriculture are encouraged to apply.
Why train with Rodale Institute?
Rodale Institute is widely considered the global leader in organic agriculture, growing the regenerative organic movement through research, training, and consumer education. By training with Rodale Institute, participants will be gaining valuable experience at the cutting edge of regenerative organic innovation in an educational setting that will prepare them for future careers.
Benefits & Requirements
The Rodale Institute Farmer Training program includes:
Eligibility for on-site housing
Free access to all Rodale workshops and webinars
Free vegetables for the length of the internship
Hourly wage based on on-site or off-site living status
At least 40 hours/week commitment with additional weekend and evening duties, in rotation with other interns
Interns are expected to have a positive attitude, be able to lift in excess of 50 lbs, and work in all types of weather.
Internship Tracks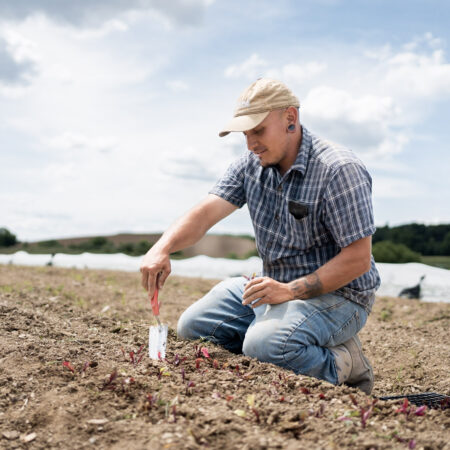 (9 months)
This track is intended for individuals who are seriously considering regenerative organic agriculture as a career. Full season interns will get firsthand experience on basic farming skills and experience an entire season of farming, as well as time in the classroom for more in-depth discussions around agriculture.
Tasks will include growing and maintaining vegetables, grains, and a small number of livestock for integrating into crop fields, as well as selling and distributing all farm products.
Full season interns are required to attend all classroom sessions and off-site farm visits, complete all classroom assignments, and pass all quarterly exams to graduate.
Individuals interested in the Fellowship are strongly encouraged to apply for a full season internship, as graduation from First-Year Full Season is required to apply for the Fellowship.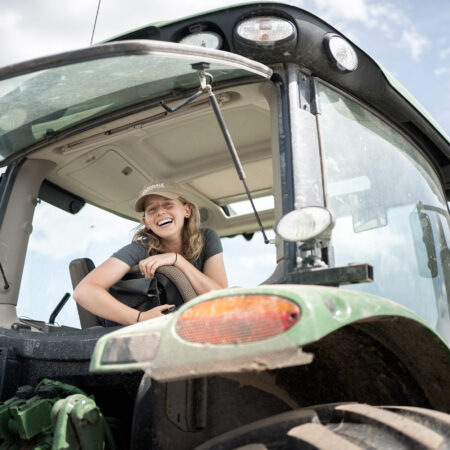 Fellowship
22 consecutive months (including 9 months as First-Year Full Season intern)
Open only to Full Season graduates and intended for those with plans to open an organic farm, the Fellowship track will teach the management and financial skills needed to own and operate an organic farm.
Tasks include all full-season operations, as well as advanced training in skilled tractor work, management of a farm crew, organic certification, crop rotation, livestock integration rotations, budgeting, equipment/seed orders, mechanical skills, and carpentry/facility skills.
Fellowship interns will complete a full farm plan and budget. Upon successful defense of their farm plan, graduates will be considered under the official mentorship of Rodale Institute.
Fellowship graduates will receive one full year of free consultation from our Organic Consultants, as well as continued access to an extensive network of program alumni, Rodale Institute employees, and partners.
Apply Today
Applications for the 2023 season are now open. 
Please fill out the .pdf form below and email your resume and application to RIFT@RodaleInstitute.org to apply.
View the 2023 Application
All qualified applicants will receive consideration for employment without regard to race, color, religious creed, ancestry, national origin, age, sex, sexual orientation, sexual identity or handicap.
Visit Our Farmers Markets
The Rodale Institute's Farmer Training program sells produce to our community through several local farmers markets. Visit us at our market locations to buy fresh, organic produce and support our trainees!
Find a Farm Market