Rodale Institute Pacific Northwest Organic Center at Cascadian Farm
Serving growers in the Pacific Northwest interested in organic practices, transitioning to organic, or advancing to regenerative organic certification.
We're focused on serving all producers no matter where they are on their journey to a regenerative organic future. The Rodale Institute Pacific Northwest Organic Center in Skagit Valley, WA will serve farmers in this key geographic region by conducting regionally significant research, translating those findings to practical techniques farmers can use, and serving consumers as a destination for inspirational transformation.
Why Washington?
Washington state has a large and growing organic industry with over 900 certified organic farms and over 145,000 acres certified organic production, representing $795 million dollars in farmgate sales. The region has been identified as an organic hotspot—counties in the U.S. that have a high level of organic agricultural activity. Organic hotspots have been proven to increase economic viability.
Pacific Northwest farmers face many challenges related to unpredictable climatic changes—extreme heat, wildfire, smoke, drought, and flooding—afflicting both the health and financial wellbeing of farmers, farm workers, and farm economics. The region's organic farmers are in need of guidance on research-based practices that allow them to adapt to extreme weather events while improving soil health and successfully managing pests and diseases. The Center will help farmers navigate these challenges by conducting regionally focused research, providing training and direct farmer consulting services, and serving as a demonstration and education hub.
The Pacific Northwest Organic Center is part of a network of Rodale Institute regional resource centers around the U.S. It serves as a research center studying the unique growing conditions of the Pacific Northwest, and a resource for farmers in the region who are interested in using organic practices and advancing a regenerative organic future.
Goals for the Center
Conduct research trials focused on practices that help farmers adapt to a changing climate with increased heat, drought, flooding, and weed and pest pressure.
Support farmers through training and consulting aimed at improving yields, profitability, and soil health using organic and regenerative organic practices.
Serve as a demonstration and education hub for farmers, agricultural professionals, and the public interested in organic and regenerative organic methods.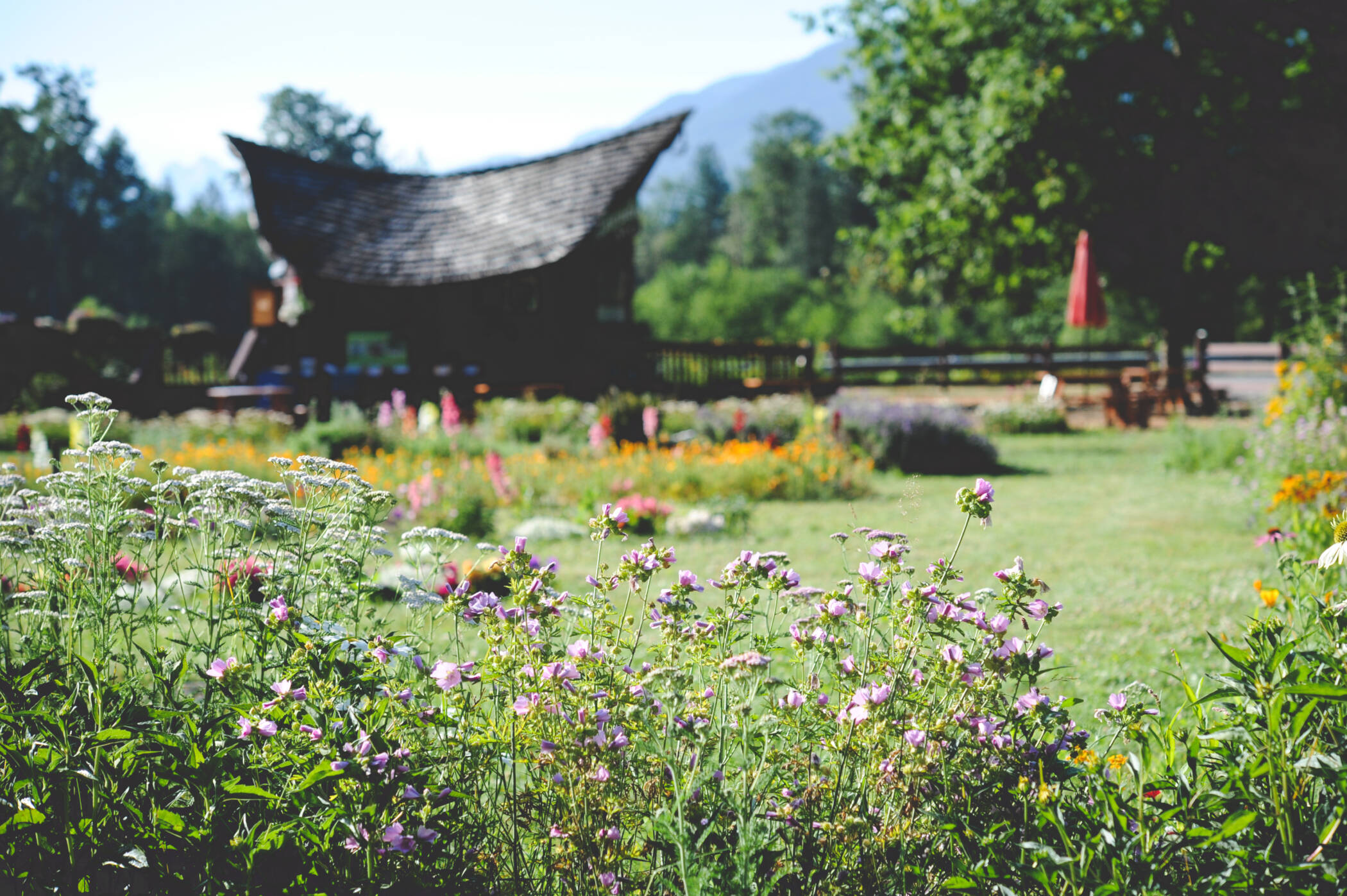 About The Farm
The Pacific Northwest Organic Center is situated on 90 acres in eastern Skagit Valley. Nestled along the Skagit River and the foothills of the North Cascades, this farm has been farmed organically for over 50 years. As the birthplace of the Cascadian Farm brand of grocery products, this site has been at the forefront of the organic movement since the early 1970's.
With the donation of the farm site from General Mills in late 2022, Rodale Institute is utilizing this historic farm as our base of operations for serving farmers in the Pacific Northwest through research, education, and consulting.
U-Pick Information
Closed for the season
Hours of operation:
July – August (exact dates dependent on fruit availability)
Berry Seasons:
Raspberries (July)
Blueberries (August)
U-Pick Details
For regular updates on u-pick, please sign up for our e-newsletter below.
Pacific Northwest Organic Center Staff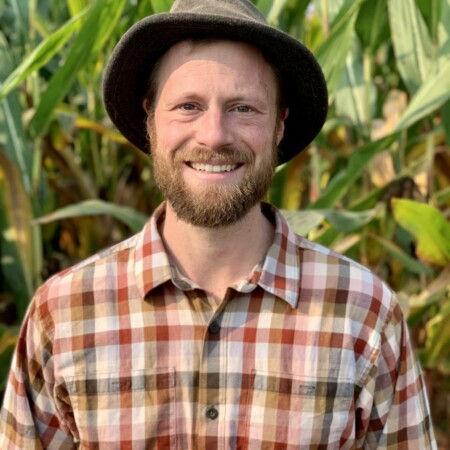 Tim Colton
Farm Manager
Tim grew up in Iowa and received a BS in Civil and Environmental Engineering from the University of Iowa. Completion of a permaculture design course in Washington State inspired Tim to begin farming as a way to care for people and the natural world. Tim worked on a small market vegetable farm, a sheep ranch and a vineyard/winery, all in western Washington, prior to becoming farm manager at the Cascadian Farm Home Farm in Rockport, WA, in 2018. The farm was donated to Rodale Institute in September of 2022, and Tim accepted a job as farm manager for the Rodale Institute Pacific Northwest Organic Center at Cascadian Farm shortly thereafter.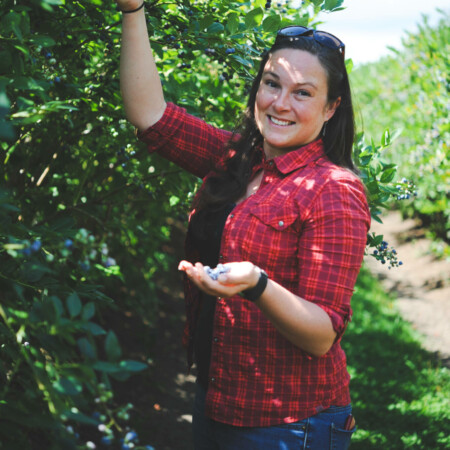 Ashley Minnerath
Community Relations Manager
Ashley Minnerath is the Community Relations Manager for Rodale Institute's Pacific Northwest Organic Center at Cascadian Farm. Prior to joining Rodale Institute, Ashley worked for General Mills as the Site Director for the Cascadian Farm Home Farm where she was responsible for stewarding the historic site and ensuring it served the brand, local community, and organic industry.
Ashley worked with General Mills to identify Rodale Institute as the next steward of the home farm; ensuring the site would continue to serve the organic community and regional farmers. She is excited to help Rodale utilize the site for organic research, education, and demonstration.
Born and raised in Minnesota, Ashley spent weekends at her grandparent's farm where she learned a love of nature and respect for farmers. She received her Bachelor's degree in Environmental Sciences at the University of Minnesota-Duluth where her love for the outdoors and nature thrived. Ashley arrived in the eastern Skagit Valley via Portland, OR where she worked at the Xerces Society with farmers and landowners to conserve habitat for pollinators. She is passionate about the unique role that farmers play in the stewardship of natural resources and community health.
Weekly Tours
Weekly tours have ended for the season. To request a farm tour during the off season, email us at
PNW@RodaleInstitute.org.
Stay Up-to-Date
Want updates on what's happening at The Pacific Northwest Organic Center? Complete the form below to sign up for the center's e-newsletter.
We hate spam, too, and promise never to share your information with outside parties. You can opt-out of email communications at any time by clicking the link at the bottom of each newsletter.
Support Our Work
The Rodale Institute Pacific Northwest Organic Center is working to make regenerative organic growing methods in the PNW sustainable and profitable. With your help we can support organic farmers and grow organic acreage in the Northwest.
Donate Today