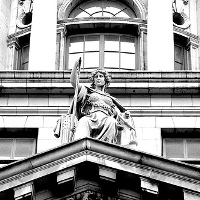 Food Law & Policy is a rapidly developing new legal discipline. It incorporates elements of traditional food and drug law, as well as elements of traditional agricultural law. However, its approach includes all of the legal issues that arise throughout our food system:
[Food Law & Policy] includes the study of the laws and regulations that govern the animals, crops, food, and beverages we grow, raise, produce, transport, buy, sell, distribute, share, cook, eat, and drink. It considers federal, state, and local "rules to govern common behavior and shared experiences regarding the available food supply." Its "policy" component focuses on innumerable food and agricultural issues that illustrate the relationship between the law and its intended and unintended consequences on health, the environment, the economy, and other areas. A brief survey of Food Law & Policy issues—which only hints at both the breadth and depth of the field—might include laws and regulations pertaining to urban gardens; supplemental nutrition assistance; food trucks; farm subsidies; unpasteurized milk; and obesity. 
Food Law & Policy thus intersects with a new approach to agricultural law studies that involves a more holistic approach, including sustainability and an overall food systems analysis.
Today, interest in the field among legal scholars and law students alike is so widespread that a 2013 news article reported "there may be no hotter topic in law schools right now than food law and policy."
It was my pleasure to participate in the 2013 Yale Food Systems Symposium, an interdisciplinary conference initiated and organized by the students at the Yale School of Forestry and Environmental Studies. The goal of the symposium was "to provide a space where researchers, practitioners, theorists, and eaters can come together to answer the pragmatic question: how can we get from here, to a just, sustainable food system?"
I was invited to participate with a panel of attorneys on the efforts of law schools to develop new "Food Law & Policy" coursework and clinics. Our co-authored article, The Future of Food Law & Policy: The Responsibility of Lawyers in the Academy and Beyond introduces "food law & policy" as a new law school subject and provides a window into the innovative work being done at five different U.S. law schools.
I was delighted to have this opportunity to present on the new developments at the University of Arkansas School of Law and the new opportunities in the LL.M. Program in Agricultural & Food Law. This Program provides advanced legal training for attorneys who wish to work in the expanding area of agricultural and food law. Our Program has had a Food Law & Policy course in our curriculum every year since 2004.
We have expanded our curriculum beyond our traditional agricultural law courses to include a broad range of new food law and policy related classes. Our new classes include Urban Agriculture, Food Justice, and additional food law offerings on the nutrition programs, food labeling, and food safety. And, we are now beginning to offer online courses, with approval requested to add a distance track to our LL.M. degree beginning Fall 2014. We hope that this will expand the reach of our Program to include attorneys who cannot move to Arkansas to study with us for two semesters.
I was honored to present with a talented and forward-looking group of law professors. Each of my co-panelists and their work is described as follows. For more information, see our article, The Future of Food Law & Policy: The Responsibility of Lawyers in the Academy and Beyond.
***
Michael Roberts teaches Food Law & Policy at UCLA School of Law and serves as the Director of the new Resnick Program for Food Law and Policy at UCLA. Professor Roberts is credited as teaching the first Food Law & Policy course in 2004 as part of the curriculum in the LL.M. Program in Agricultural & Food Law. He is also credited with being the driving force behind the first scholarly journal devoted to the field, the Journal of Food Law & Policy, at the University of Arkansas School of Law. The Journal published its first issue in 2005.
Resnick Program for Food Law and Policy is "dedicated to studying and advancing law and policy solutions to improve the modern food system. The program works to develop key legal and policy tools to build a culture of healthy eating and well-informed consumers." At the symposium, Professor Roberts discussed his plans for the new Resnick Program for Food Law and Policy including developing a resource source for food-related litigation.
***
Emily Broad Leib serves as Director of the first Food Law & Policy Legal Clinic at a U.S. Law school. Professor Broad Leib started her clinic in 2010 at Harvard University Law School. A recent article noted that the clinic has been "wildly popular" with the students at Harvard. Professor Broad Leib reported on the work of the clinic, including its recent and highly publicized work on food waste and the confusing "use-by" dates on food packages. This work produced a report co-authored with the Natural Resources Defense Council, The Dating Game: How Confusing Food Date Labels Lead to Food Waste in America.
***
Margaret Sova McCabe serves as Professor of Law and Associate Dean of Academic Administration and Special Projects at the University of New Hampshire School of Law. Professor McCabe discussed the agricultural and food law opportunities that she leads at the University of New Hampshire, including an Administrative Agency Clinic that partners the law school with New Hampshire Department of Agriculture, Markets, and Food. In this clinic, students help to draft regulations and learn first hand about the regulatory process that affects our food system.  She advocated convincingly for an interdisciplinary, systems approach to food law studies.
***
Laurie Ristino Serves as Associate Professor Of Law and Director Of The Center For Agriculture And Food Systems at Vermont Law School. In addition to serving on our panel, Professor Ristino was a Keynote Speaker at the Symposium.
Professor Ristino discussed the exciting work of Vermont's new Center. Its mission is described as two-fold: "to develop the next generation of food and agricultural law and policy advocates while creating legal tools to support the sustainable food and agriculture movement." Professor Ristino stressed the need for "a new legal framework to create solutions to support economically and environmentally sustainable food systems." She emphasized the new approach to agricultural law and the importance of applying a food systems analysis to our work. Many new programs are on the horizon at Vermont.
***
Our panel was moderated by another leader in the Food Law & Policy movement, Baylen Linnekin. Baylen is Executive Director of Keep Food Legal, a Washington, D.C. nonprofit that advocates in favor of food freedom of choice. He also serves as an adjunct faculty member at American University and is scheduled to teach Food Law & Policy for the first time at a Washington, D.C.-area law school in fall 2014. Professor Linnekin and Professor Broad Leib are the authors of a forthcoming article that analyzes the development of Food Law & Policy in law schools.
While our panel represented five of the current leaders of the Food Law and Policy movement, others deserve acknowledgement as well. For example, Neil Hamilton, the Dwight D. Opperman Chair and Professor of Law as well as the Director of the Drake Agricultural Law Center, began incorporating food law into his agricultural law teaching in the year 2000. Professor Hamilton's writings on sustainability, local food systems, and food democracy blazed the trail for the Food Law & Policy movement that we now embrace.
The symposium presented an inspiring and informative opportunity to think about our food system, from farm to fork. It reminded me again that we are at a crossroads. There is widespread acknowledgement that our current food system has many problems. Many practices are not environmentally sustainable. Many people are food insecure. Climate change and increasing economic disparities loom large as problems for the future. The decisions we make now will determine whether our food system can adapt to these challenges.
Law provides the legal framework that guides our food system. It can be a tool for, or a barrier to, future sustainability. Either way, it will be a major influence. I was proud to participate in the Yale Symposium with a group of attorneys working to make certain that we ask the right questions and make the right choices.
For more updates on Rodale Institute's research and programming, follow us on Facebook, Instagram, and Twitter.