Despite the rather short growing season in the Northeast corner of the US, farms in the six New England states are beginning to offer impressively unusual produce. Inspired by the area's immigrant and refugee farming and even University research, farmers are bringing creative determination to their farms.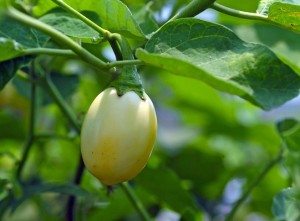 Nuestras Raices: Holyoke, Massachusetts
Sweet perennial pepper, West Indian pumpkin, African eggplant, andpigeon peas make the top of the list for most interesting and popular crops at Nuestras Raices. Influenced by the rich Puerto Rican community in Holyoke, MA, Nuestras Raices (meaning "Our Roots") represents the strong agricultural ties and history of the culture through their grassroots non-profit organization. Here, they understand that agriculture and community are tightly linked. Jonathon Surrency, Volunteer Coordinator and Resource Manager at Nuestras Raíces, shared that the sweet perennial pepper (aji dulce) is an important crop – the main ingredient in a sofrito (an all-purpose sauce), which is used to season many Puerto Rican dishes. The pepper is made in big batches of seasoning and stored in a freezer for everyday cuisine use. Interestingly, this variety of sweet pepper was never grown in the US until it was introduced by the
Puerto Rican people. Despite its Caribbean origins, the pepper grows well in New England if seeds are started in a greenhouse, and they sell even better. The first year that farmers grew starter plants, five thousand seedlings sold in a matter of days – a remarkable phenomenon and proof of a receptive market for ethnic crops!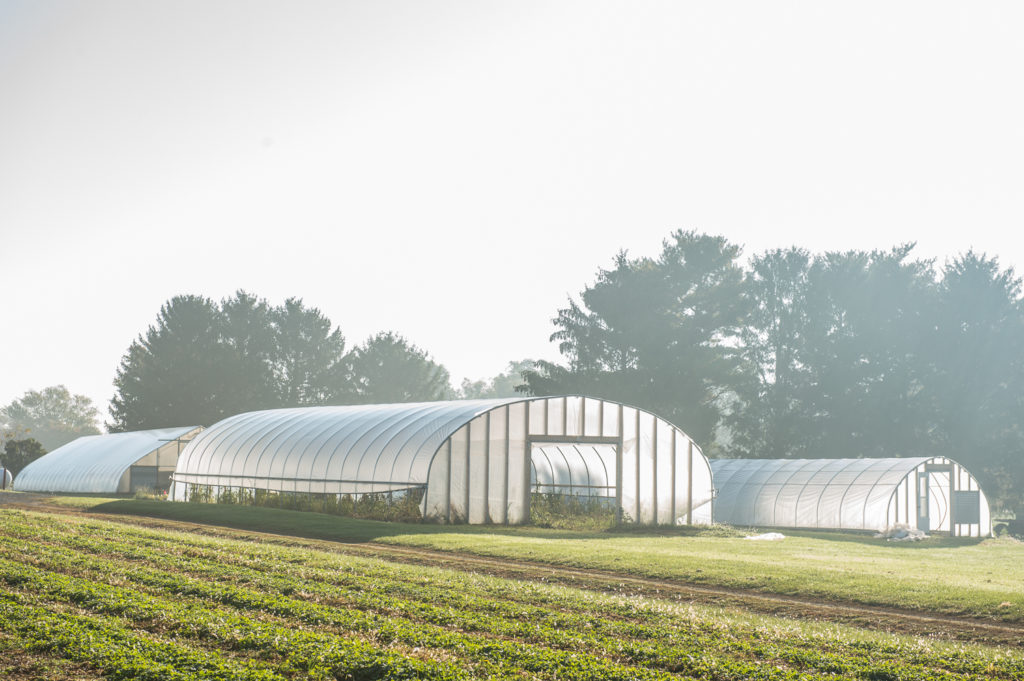 Today, Nuestras Raices boasts a network of ten community gardens with over 100 member families, an environmental program that addresses issues affecting the Holyoke community, a Youth Program for inner-city youth that discusses food and environmental topics, and a 30-acre inner-city farm that focuses on food systems, economic development, and agriculture.
Fresh Start Farms: Dunbarton, New Hampshire
Fresh Start Farms, located in Dunbarton, NH, is a collective of refugee and immigrant farmers representing the Somali-Bantu, Bhutanese, Burundi, and Congolese communities. Over 20 farmer entrepreneurs are participating in the New American Sustainable Agriculture Project while producing a variety of atypical vegetables important to their respective communities in NH. Vegetables include African eggplant, mustard greens, amaranth greens, daikon radish, bitter melon, "hot corn," and ginger. The African eggplant has particularly proven to be extremely popular among the immigrant communities, and it is sold at farm stands throughout Manchester, NH for $4-$5 per pound. "It is a favorite among the Congolese, Burundi, and Somali Bantu communities," said to Charlene Higgins, the Farmer Training Coordinator. "…and despite the name, the Bhutanese love it too!"
Mustard greens are also highly sought after by the Bhutanese community, who frequently use it in curries or with pickled daikon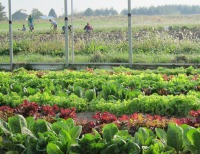 radish. They are sold throughout Manchester for $3 per bunch, primarily to Bhutanese families who cook many bunches at a time for each meal. Fresh Start Farms often faces challenges including sourcing African eggplant seed, finding greenhouses to start seeds in, battling flea beetles on their mustard greens, bolting radishes, and fencing out wild animals. Seeds are sourced from Johnny's Selected Seeds, Evergreen Seeds, and High Mowing Seeds.
Association of Africans living in Vermont
In the same spirit as Fresh Start Farms, the Association of Africans Living in Vermont (AALV) is where many Bhutanese and African immigrants practice their agrarian traditions through the production of culturally significant crops. Cross cultural agrarian learning and sharing is an essential component of the program. AALV also helps Northeast farmers and gardeners adapt important crops of world cultures into the local food system to be grown successfully for market, food, and medicine.
Alisha Laramee, AALV Program Manager, highlighted important African and Asian crops that have significant potential to be integrated into the Northeastern US food system. The first of these is rice, whose seeds are sourced from Fedco or Kitazawa Seed Company. The Bhutanese rice growers in VT emphasize that the key to a successful Northeast rice crop is "…a healthy early start for seedlings in the greenhouse and continuously flooded paddies during the first month after transplanting. Flooding is critical for weed suppression and preventing wide fluctuations in soil temperature. Rice should be harvested once grains are fully developed and most have turned from green to a brown/yellowish color upon maturing."
"We use rice from birth to death. We celebrate everything with rice. We use rice for everything. We use rice in daily life and for the big festivals that are only once a year," said Rita Neopaney, a former Bhutanese refugee who is now a US Citizen. "We eat rice at least twice a day. We make a lot of things with rice: breakfast, snacks, food for sick people, dinner."
Rice must be dried to below 14% moisture content for long term storage, otherwise it will discolor or mold. Low-cost moisture meters can be sourced from hardware stores. Processing the rice is an involved process that requires the growers to remove the grain from the chaff and implement de-hulling. Some Northeast growers are willing to rent their de-hulling equipment; otherwise the grain can be pounded in a large mortar and pestle.
Another unusual crop grown by immigrants through AALV is diakon radishes. For the past fifteen years, agronomists have been researching daikon radish as a cover crop because of its ability to penetrate and aerate compacted soil. As a cover crop, it's usually not harvested for food. Across Asia, however, daikon radishes are prominent vegetables in cuisine. Both its roots and its leaves can be consumed in many ways: raw, cooked, dried, fermented, or pickled.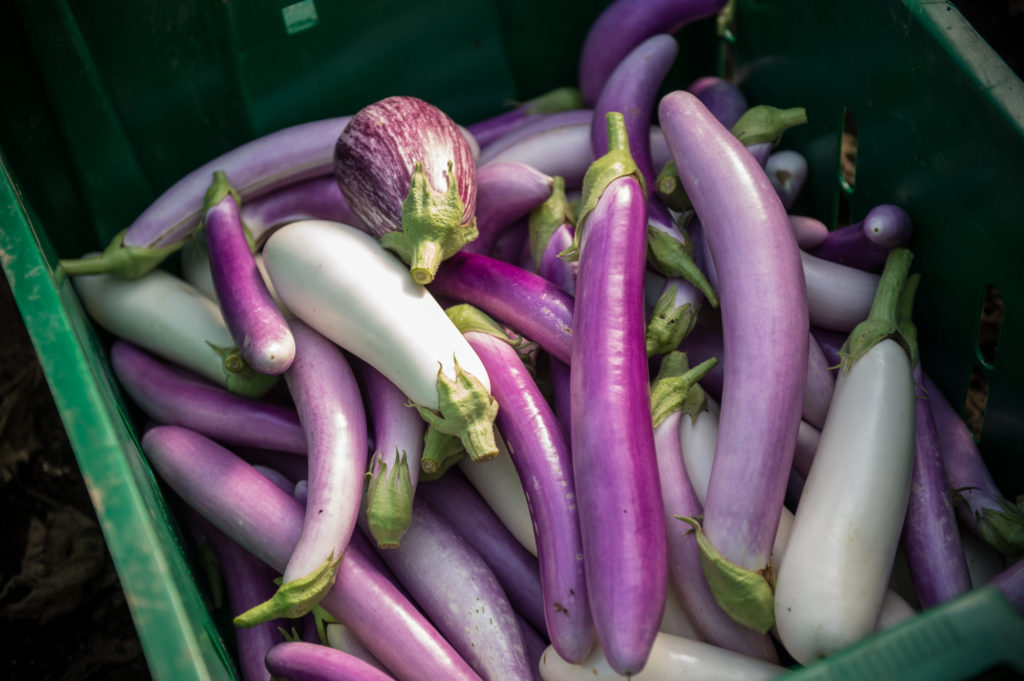 African eggplant is another very popular crop. Cultivation techniques are similar to purple eggplants; plants benefit from being
started about 8 weeks before planting in the field. African eggplant thrives in warm soil and is a heavy nitrogen feeder. Farmers harvest while the vegetable is still green, claiming it aids digestion.
Surprisingly, amaranth is yet another vegetable that grows in New England. It tends to be more well-known as a gluten-free grain, high in lysine and protein properties. Yet the greens are also nutritional powerhouses and can be grown just about anywhere and under any conditions. Other crops grown in VT by this group of growers include bitter melon, roselle greens (a base for curry in Myanmar and dried flowers used for teas), African corn (grows more vigorously and taller than sweet corn), and mustard greens.
Last Resort Farm: Monkton, Vermont
At Last Resort Farm in Monkton,VT, Eugenie Doyle has been perfecting the art of growing ginger. While the 280-acre farm in beautiful Addison County produces an abundance of organic vegetables, berries, and hay, Doyle sources yellow seed ginger (rhizomes) from Puna Organics in Hawaii.
The farm grows baby ginger instead of mature ginger, which would take a year to mature even in the tropics, since soil must exceed 55° in a hoop house (planted mid-late April). Doyle pre-sprouts the rhizomes indoors (in a soilless medium) until they put out pink/white shoots. It is planted in raised beds with rhizomes placed 2-4 inches deep, drip tape placed on top, and rows 2.5 feet apart.
Throughout the season, the ginger plants are continually hilled with soil, which gives more room for the rhizomes to spread (both horizontally and vertically). Fertilization is completed according to a soil test, and fertilizers are side dressed throughout the season. Fortunately, insects or pests have evaded the hoop house, and only weeds like chickweed can be found. Harvesting involves simply pulling up the plant stem or loosening the ginger with a pitchfork. The ginger is then sprayed with water, and the roots are cut off.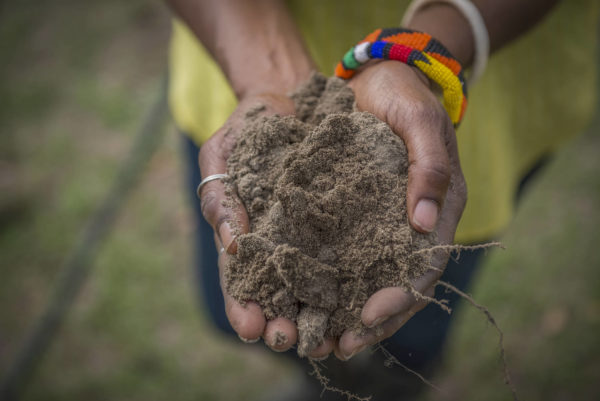 In 2014, ginger yields at Last Resort Farm were around 9.5# for 1# of planted rhizomes. The ginger is sold by the pound or by the bunch for $12/# wholesale and $20/# retail. The unusual crop is sold through the CSA, a farmers market, or two large co-ops in Burlington, VT, where consumers can discover its versatility. Ginger's shelf life is less than dried rhizome, but can store well in a freezer all winter long. Ginger leaves can even be dried and made into a wonderful tea. According to Doyle, "The biggest challenge is related to consumer education because local, baby ginger looks different than the common dried rhizomes." Yet after four years, ginger has become one of his favorite crops to grow, and he has dedicated a large hoop house to it.
Laughing Child Farm: Paulet, Vermont
Over at Laughing Child Farm in Paulet, VT, owner Timothy Hughes-Muse is experimenting with sweet potatoes. Their main
varieties grown are Beauregard, Covington, and Carolina Ruby. They've also grown Evangeline, but that variety is no longer available. The sweet potato slips are shipped from several suppliers in North Carolina and planted in early May. They grow the sweet potatoes on raised beds covered with black plastic mulch with two lines of drip irrigation. The plants require heavy amounts of potassium, and during the growth, wheel tracks and holes must be kept weed free to ensure good yields.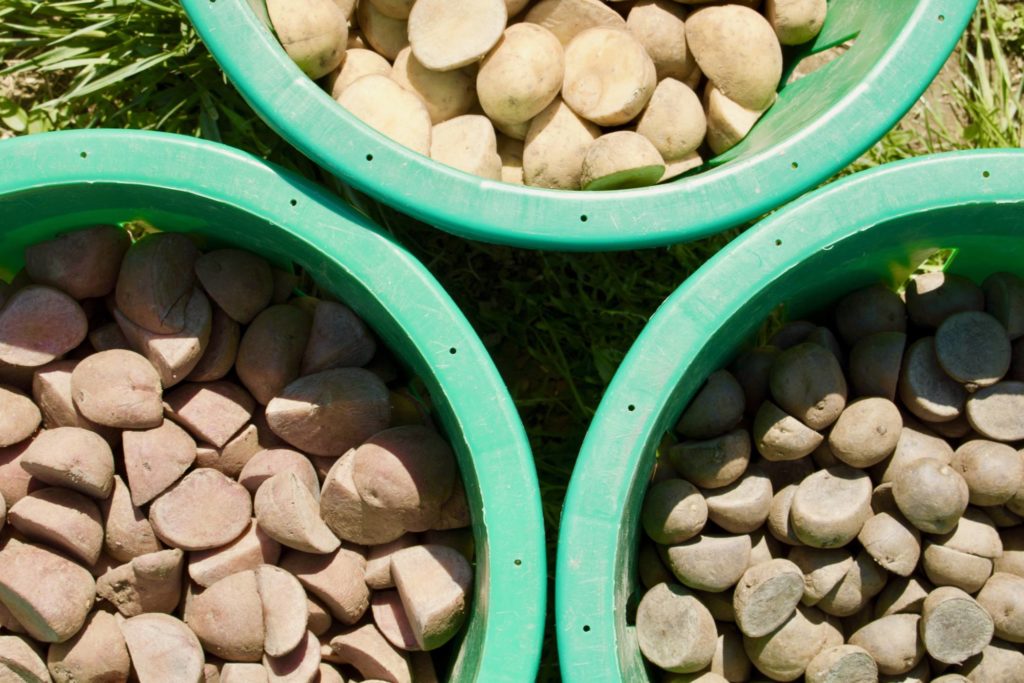 Regarding pests of sweet potatoes at Laughing Child Farm, the worst have been wire worms and cucumber beetle maggots. Most growers in the area have problems with meadow voles and deer. Timothy uses deer exclusion fencing, but does have loss due to the meadow voles; "Most small growers are going to see significant damage in small patches of sweet potatoes." During harvest, they use a bed lifter to loosen the potatoes, pick them by hand, and then field grade them. The sweets need to be cured at 90º F and 85% RH for 7-10 days and then kept at 55º F and 85% RH until they are washed and packed. Timothy sells the crop to retail stores, distributors, and the food service industry mostly within VT, and some in New York. According to Timothy, "Yields vary widely among growers because some do not need to grade as heavily as we do. Most of our sweet potatoes are destined for a supermarket shelf, so they need to be beautiful. We cull anything misshapen, too small, too large, and too dinged up, which means we get about 1.5 lbs of #1 roots per bed ft." With their experience at Laughing Child Farm, timing is the hardest thing. "The window is very tight for producing a high-yielding crop," explained Timothy, "Growers need to lay plastic a full month ahead of slip planting, at a time when they are busy with everything else. Then planting is tighter still, mainly due to the lack of local sources of sweet potato slips. Some suppliers are not shipping slip until June 22. Lastly, the sweet potatoes have to be out of the ground and in the barn by the end of September, which is a tight window."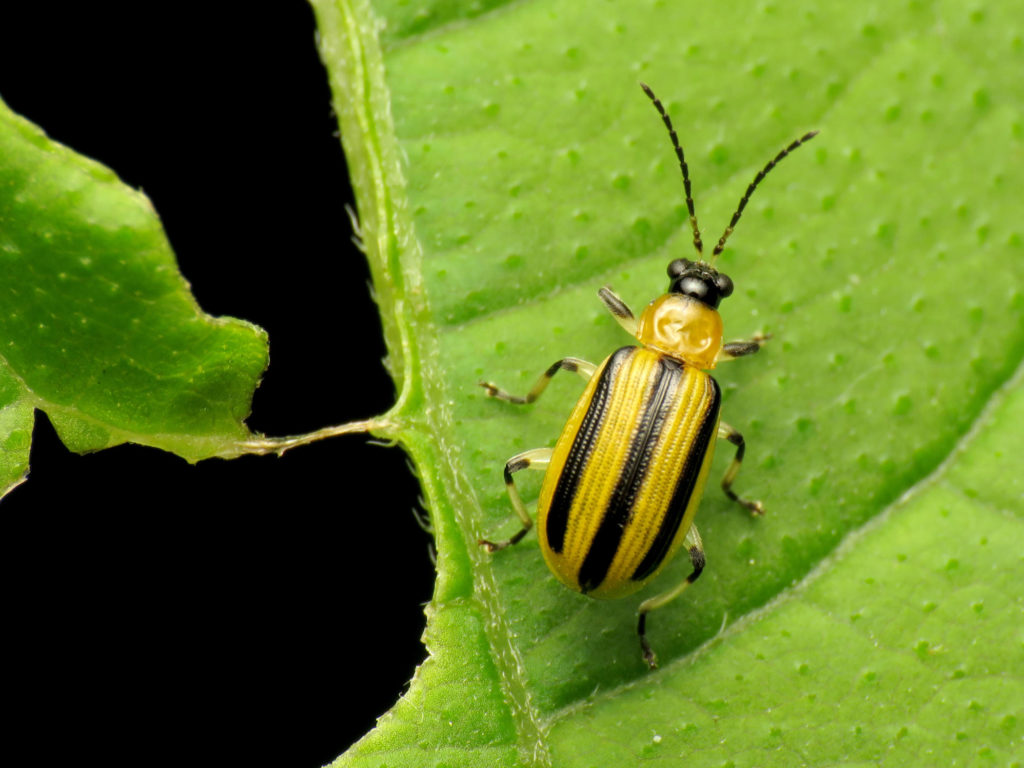 Throughout New England, there are remarkable and unknown crops growing within the foodscape. Further examples include peanuts and turmeric grown in New Hampshire and Connecticut – or even organically grown Ruby Red Popcorn at Hurricane Flats Farm in South Royalton, VT. This red variety of popcorn pops white and has a wonderfully nutty flavor. One can also find rice at Akaogi Farm in Putney VT, and an abundance of sweet potatoes from Maine to Rhode Island. The next time New Englanders plan to visit the farmers market, they may want to consider surprising novelties that are hidden amongst the carrots, kale, and tomatoes.
Resources:
Association of Africans Living in Vermont: www.aalv-vt.org
Fresh Start Farms: www.freshstartfarmsnh.org/
Laughing Child Farm: www.laughingchildfarm.com
Last Resort Farm: www.lastresortfarm.com
Puna Organics Ginger: www.hawaiianorganicginger.com
Hurricane Flats: www.hurricaneflats.com
Nuestras-Raices: www.nuestras-raices.org
Evergreen Seeds: www.evergreenseeds.com
Kitazawa Seed Company: www.kitazawaseed.com
For more updates on Rodale Institute's research and programming, follow us on Facebook, Instagram, and Twitter.