Homefields Inc. is located in Millersville, PA. Homefields is a non-profit organization dedicated to creating new life options for people who have disabilities. Homefields' Care Farm Manager, Katie Landis, shares insights on Homefields' transition to organic.
A modern ranch and 1800s farmhouse are the homes, and a 23-acre farm is the stage. Hundreds of people who have a disability or other barrier to traditional employment have engaged at the farm, growing organically-minded produce for community shareholders. Six adults with intellectual and developmental disabilities call Homefields "Home". Homefields is committed to organic production practices. They are working with Rodale Institute's organic crop consulting program and plan on applying for organic certification in the Fall of 2020.
Can you tell us a bit about your operation?
The farm has been around for 20 years. We are a part of Homefields, Inc. which is a larger non-profit organization. Homefields was founded in the early 1990s by five families who all had an adult child with a disability and were looking for a more natural, peaceful place for their children to live so they got together and purchased the farm. A couple years later the vegetable production side of Homefields started. We at first collaborated with Goodwill Industries who ran the farm CSA program working with adults with disabilities for about 17 years. In 2017 they parted ways with us and Homefields has been running the farm side of things since then. We manage 23 acres but we have about 7 in vegetable production.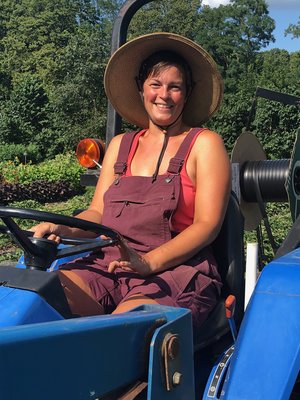 There are about 175 shareholders in our CSA. They all come to the farm to pick up. We have 3 pick up days every week. A big part of our CSA is our pick your own field and our pick your own strawberries. This year we implemented a choice CSA so people can set preferences about which vegetables they like and don't like and they can also then make swaps before pick up time happens so they are getting more of what they like. We are pretty excited about that. With our CSA, we grow the whole range of vegetables you would expect to get from a CSA, a little bit of everything.
What is your interest in getting certified organic?
For me getting certified organic would be easier than trying to explain how we are using organic practices but that we can't say that we are organic. It will just be simpler to stick that label on things and have people just know. Also, we will have better accountability. We can prove to everybody that this is what we are doing.
What has been the biggest stumbling block to certification and how are you working to overcome it?
I think the biggest stumbling block in my mind was cost and just the amount of paperwork that might be involved but I feel like over the years we have implemented a lot of that paperwork ahead of time. We do a lot of recordkeeping and a lot of tracking of things already. So aside from the application I really don't know if there is going to be a whole lot more. And Emily Newman, our Rodale Institute Crop Consultant, is helping with that, so that's great.
What advice would you give another farmer who is in your situation, maybe practicing organic but not certified?
I feel like the bigger you are the more important it is to have that accountability. Also, there are programs like the USDA grant that we are working from that you can get help for free which is really awesome. If they want to do it, just try to figure it out.
We all know that farming is extremely hard work, often requiring long days in difficult conditions. What motivates you to get up each day and keep going?
Here on this farm, what motivates me is the people, really. All the shareholders are so happy to see us, so happy that we are growing food for them. Our employees, farmhands and volunteers are all really happy to be here and so happy to be growing food. It's just a really awesome, natural, peaceful, healthy environment to be in.
Is there anyone who has influenced you in your farming journey that you want to tell us about?
My biggest mentor was a woman named Eli Weaver who is with Lancaster Farmacy. They grow mostly flowers and medicinal herbs. She was the farmer at the first farm that I worked at and she really inspired me to want to explore more. She got me interested in farming and organic agriculture.
Are there any fundamental farming "lessons" that you have learned in your farming career that you would like to share with farmers who will read your interview?
You have to just take each day as it comes and realize that you are not going to get everything on your list completed and that tomorrow is another day. There will always be weeds and you have to accept some level of weeds. I heard a quote somewhere about weeds – it was something like "perfection is not attainable so you have to shoot for 80% being good enough". I try to think about that since I do have some perfectionist tendencies.  Our shareholders are seeing the vegetables and the strawberries- they are not seeing the weeds when they come, even though that's what I am seeing. They are happy.
About this story
Katie Landis, Farm Manager of Homefields Inc., is working with Organic Crop Consultants at the Rodale Institute. The consulting services are FREE to Pennsylvania farmers transitioning to organic thanks to funding from the PA Department of Agriculture. Farmers who make the transition to organic can earn two to three times the price of their conventional counterparts and increase the value of their land, giving farmers a valuable asset for future generations. Rodale Institute is a trusted resource for technical assistance, regulatory advice and community connections. Consultations typically begin with a phone call, followed by a site visit. Support is provided throughout the entire transition to make sure farmers are on the right track.
Farmers that are interested in receiving consulting services can contact the Rodale Institute directly by calling 610-683-1416 or Consulting@RodaleInstitute.org.
This article originally ran in the summer 2020 issue of Organic Matters, the magazine of the PCO.
For more updates on our research and programming, follow us on Facebook, Instagram, and Twitter.