While it's hard to imagine today, with entire grocery aisles devoted to organic products, the USDA Organic certification is less than a generation old.
Formally established with the Organic Foods Production Act of 1990, the National Organic Program defines the standards of organic farming practices. Throughout the 1980s, the United States Department of Agriculture needed to establish a baseline of organic farming best practices–and Bob Rodale stepped up.
Son of Rodale Institute founder J.I. Rodale, Bob Rodale knew that organic farming was the way of the future–that especially in America's staple crops of corn and soybeans, organic could lead the way with fewer chemicals and more positive health outcomes.
But in order to prove that to Congress and the USDA, Bob needed to show those benefits in action. So in 1981, Rodale Institute established the Farming Systems Trial, a system of experimental plots designed to directly compare organic farming methods with conventional, monitoring outcomes like yield, soil health, fuel usage, and more. Forty years later, FST remains the longest-running side-by-side comparison of conventional and organic grain cropping systems in North America.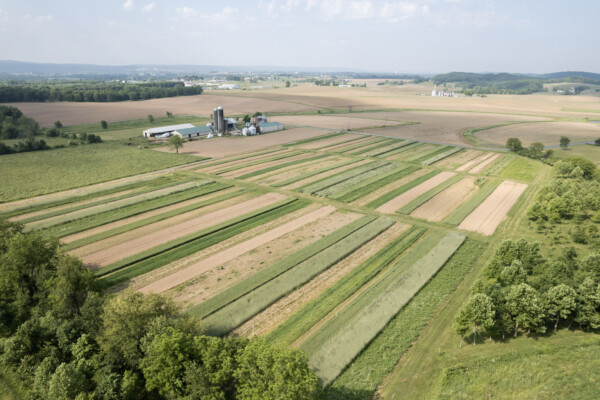 In farming, setting up systems side-by-side allows for direct comparison under the same weather, soil, and ecosystem conditions. By designing FST to run long-term, Bob also allowed the research to take into account decades-long changes in climate, wildlife, development, and more.
Today, FST is located on the same 12 acres at the Kutztown headquarters of Rodale Institute as it did when Bob started the project. Divided into organic manure, organic legume, and conventional systems, each system is further divided into tillage and no-till management, for a total of 72 different experimental plots.
Rodale Institute's recently released Farming Systems Trial 40-Year Report outlines the myriad of research that has taken place over the last four decades, showing that organic systems not only have the capacity to feed the world, but to increase the bottom lines of farmers and keep harmful chemicals out of our food system.
Here are just some of the results from 40 years of research:
Yields from organic systems are statistically comparable with conventional yields after a 5-year transition period
In years of drought or excess rainfall, organic systems yields surpass those of conventional systems
Organic plots are able to tolerate higher weed pressure than conventional, while producing equivalent yields and reducing both herbicide usage and soil compaction
Organic systems are more profitable for farmers while maintaining lower risk due to lower total costs and high premiums; however, even without price premiums, FST's organic manure system is still the most profitable
As FST has grown and developed over the past forty years, its scope has increased as well. In 2018, FST began assessing the impact of farming practices on water quality, an issue that has been increasingly salient over the past twenty years as dead zones in the Gulf of Mexico and other bodies of water, often attributed to agricultural runoff, have continued to grow.
Research on water quality in FST has shown that organic management increases water infiltration, which reduces runoff into major bodies of water and replenishes the water table. Because organic does not use pesticides or synthetic fertilizers, the organic plots did not contribute to the accumulation of chemicals in waterways that often affects drinking water supplies.
Thanks to increased consumer demand, improved research, and larger supply chains, regenerative organic agriculture has grown exponentially over the past forty years. As Rodale Institute continues to support that growth for the next forty years and beyond, the research, farmer training, and consumer education will all continue to be built on a foundation of the work of FST. The Organic Consulting Service uses the research and reputation built by FST to help farmers transition to organic with real-world research and examples that help move them forward.
The model of FST has also created a legacy in newer research projects, tackling some of the most important questions of our time. The Vegetable Systems Trial uses the model of side-by-side comparison and applies it to the nutrient density of produce, working to determine whether organic food really is healthier than conventional. Other long-term, direct comparison trials have studied new crops like industrial hemp, or formed a new regional baseline for decades-long research at Regional Resource Centers in Iowa, Georgia, California, and beyond.
The Farming Systems Trial is incredibly unique in both its venerable history and its impact on the growth of the organic and regenerative organic movements. As FST enters into a new era with the increased connectedness of our world and the impact of the pandemic on consumer's mindset surrounding health, wellness, and the world we live in, this research will continue to be a mainstay for consistent, rigorous, and impactful science.
Learn More About the Farming Systems Trial
Rodale Institute is a 501(c)(3) nonprofit dedicated to growing the regenerative organic agriculture movement through rigorous research, farmer training, and education. Our groundbreaking science and direct farmer-support programs serve as a catalyst for change in farming and food production worldwide. Over our 75-year history, we have proven that organic farming is not only viable, but essential to humanity's survival.