On Friday October 15, 63 students from eight higher learning institutions visited Rodale Institute's Kutztown headquarters for the Northeast Regional Soil Judging Competition.
Coordinated by Delaware Valley University, the Northeast Regional Soil Judging Contest is a competition in which students learn how to describe soil morphology (e.g. color, texture, structure, rock content, tilth, etc.) and to identify critical features such as rooting depth limitations, erosion potential, hydraulic conductivity, and drainage class. From this information, the students then classify the soils and make general land-use interpretations, such as suitability to build a basement, road, and determination of the land as Prime Farmland.
Students visited pits dug through Rodale Institute's 333-acre campus, including near the 40-year-old Farming Systems Trial. This year's competition was the first time the soil judging had taken place on a certified organic farm.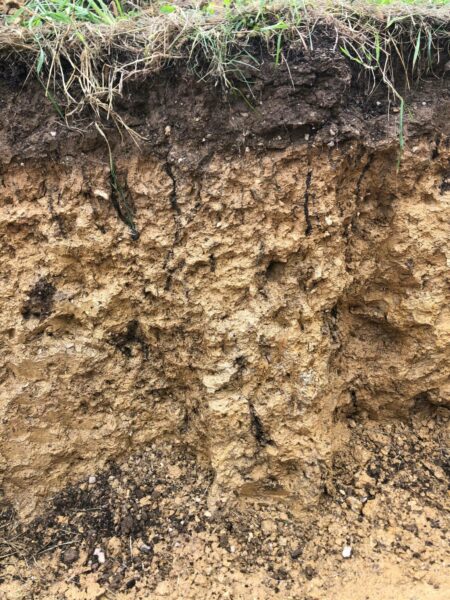 One notable observation by the students was the abundance of underground life in the organic soils. A large number of earthworms were observed systematically moving fertile topsoil to the subsoil, spreading organic matter through the soil profile. This earthworm haven is largely due to the organic no-till farming practices maintained at the site, preventing soil disturbance that would harm earthworms and other soil invertebrates.
The contest is structured with two practice days where students from across the country learn about and describe soils that are typical of the Greater Lehigh Valley area where the judging was to take place. On the contest day, students work individually and as teams to analyze and describe the on-site soil pits.
Overall, the University of Rhode Island won this year's contest, edging out Delaware Valley University, followed by the University of Maryland and the University of Delaware. These four schools have qualified and will advance to the Spring 2022 National Contest, hosted by the Ohio State University. The top individual finisher was Delaware Valley University's Mitchel Johnson, followed by Braden Fleming from the University of Rhode Island, and Gabrielle Landis from Delaware Valley University.
The eight schools competing this year's Northeast Regional Soil Judging Contest include Bloomsburg University, University of Delaware, Delaware Valley University, the University of Maryland, Pennsylvania State University, the University of Pittsburgh-Johnstown, the University of Rhode Island and Stockton University.
Check out this gallery of photos from the competition:
This slideshow requires JavaScript.
For more updates on our research and programming, follow us on Facebook, Instagram, and Twitter.