In a notable and inspiring policy speech at Rodale Institute's Organic Field Day, Pennsylvania Governor Josh Shapiro said investment in organic farming is "key" to growing the economy in the commonwealth. The Governor also highlighted how the Institute's research and Veteran farmer workforce development program "build on our commonwealth's legacy of innovation and helps us prepare for the next generation of farmers to be successful."
"When I think about a healthy economy for the future of the Commonwealth of Pennsylvania—one that is going to create generational wealth, one that is going to create jobs, one that is going to break down barriers and create opportunity for more people—I think of agriculture."

– Pennsylvania Governor Josh Shapiro
In a show of bipartisan support for the Institute's work to help Pennsylvanian farmers flourish and grow the organic agricultural workforce in the commonwealth, the Governor, a member of the Democratic party, was joined by Rodale Institute's representative in the Pennsylvania House of Representatives, Representative Jamie Barton, a member of the Republican party.
Pennsylvania Secretary of Agriculture, Russell Redding, a longtime champion of the commonwealth's farming families and Rodale Institute, also celebrated Field Day and the Institute's Veteran farmers in-training alongside Shapiro and Barton.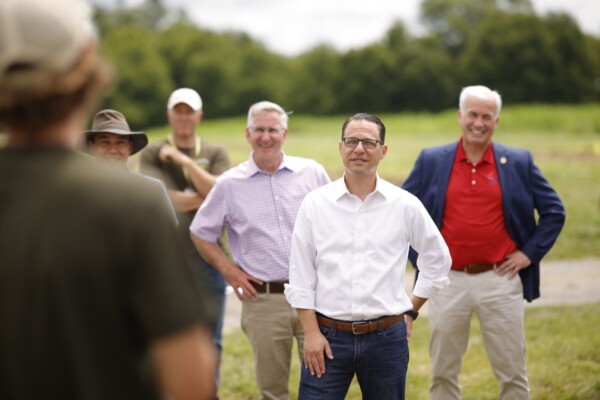 "If we want to grow our economy here in the Commonwealth of Pennsylvania, we must invest in farms, we must invest in ag, and I believe organic farming is key to that growth. I think for too long, over too many years, ag was actually always left out of the economic development conversation."

– Pennsylvania Governor Josh Shapiro
It's no secret that Pennsylvania is a powerhouse producer when it comes to organic agriculture. Currently, the commonwealth ranks among the top three states in organic production and sale of organic products. At the same time, America's demand for organic foods has surged, which has spurred the need for support for organic farmers willing to invest in meeting that demand with crops grown on Pennsylvanian farmland.
"The agricultural sector undergirds Pennsylvania's economy and support from Harrisburg enables this critical sector to grow," said Rodale Institute CEO Jeff Tkach.
Looking ahead, Shapiro made it clear that he is both optimistic about the future of Pennsylvania agriculture and committed to its progress.
"Let this be a call to everyone that we are not only open for business—that our farmers are not only going to be respected and that consumers are not only going to get a great product—that we are going to be the market leader in this nation when it comes to organic, right here in the Commonwealth of Pennsylvania," said Shapiro.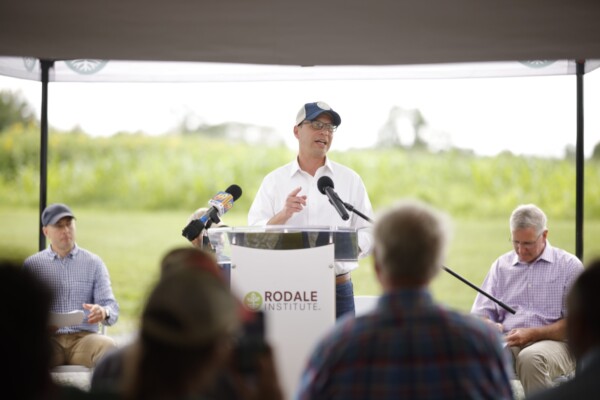 "We're in this game to compete. We're in this game to win."

– Pennsylvania Secretary of Agriculture Russell Redding
The Governor, Secretary Redding, and Representative Barton also visited the Institute to meet with U.S. military Veterans currently enrolled in Rodale Institute's Veteran Farmer Training (VFT) program, a workforce development initiative.
VFT, which is led by a former staff officer in the U.S. Army who served in Afghanistan, prepares entrepreneurial former U.S. servicemembers for careers in organic agriculture.
A second year VFT fellow and Iraq War Veteran, Ramon Madrid, spoke during a press conference at the Institute with Shapiro and Redding about the impact Rodale Institute's training had on his life.
"Rodale Institute gives me an opportunity to serve my country in a regenerative way. Some people call it grounding. Some people say it's getting back to your roots. I'm choosing to call it 'agritherapy'," said Madrid.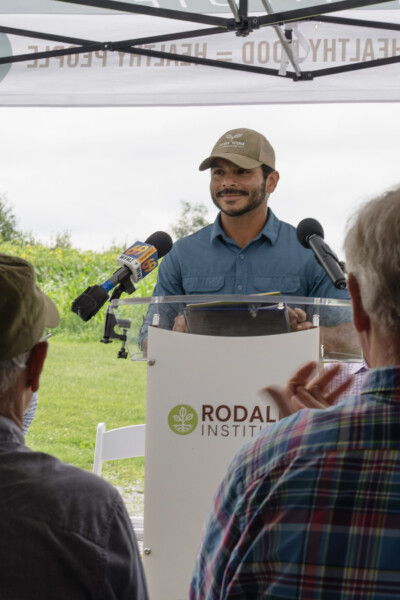 Workforce training programs like VFT are critical to securing the agricultural sector as current USDA figures show the average age of an American farmer is around 57 years old.
As the current generation of farmers approach retirement, skills-based education initiatives like Rodale Institute's are critical to ensuring farming businesses can be successfully operated by the next generation of American farmers.
To watch Governor Shapiro's speech at Rodale Institute's annual Organic Field Day in its entirety, please click HERE.
For more information on Rodale Institute's annual Organic Field Day or the Institute's Veteran Farmer Training program, visit:
www.rodaleinstitute.org/visit/organic-field-day/
www.rodaleinstitute.org/education/training-programs/veteran-farmer-training/