In 2016, farmers from across the country came together to launch Organic Farmers Association to unite U.S. organic farmers for a better future together. Rodale Institute supports this initiative as fiscal sponsor and partner with the Organic Farmers Association's farmer leadership. The mission of the Organic Farmers Association is to provide a strong and unified national voice for domestic certified organic producers and to advocate for policies that organic farmers need. Become a supporting member of Organic Farmers Association today and give a voice to organic farmers in Washington.
The policy issue that is dominating everyone's attention today is the response to the COVID-19 pandemic. At the end of March, Congress passed its third bill to respond to the pandemic, called the Coronavirus Aid, Relief, and Economic Security Act (CARES Act). It includes an estimated $2 trillion in federal spending spread among different programs including unemployment insurance, direct payments to individuals, industry specific assistance (such as to airlines) and several provisions that cover agriculture.
Here is what we know now about how organic farmers will be affected:
Aid for Farmers
The CARES Act provides almost $24 billion dollars to the U.S. Department of Agriculture (USDA), without very detailed instructions, to aid farmers affected by the pandemic. Some of that funding will be used to purchase food to distribute it to food banks or other nutrition programs. The CARES Act also instructs USDA to provide aid to impacted farmers, including fruit and vegetable producers, livestock producers (including dairy), and producers selling into local food systems.
The USDA has not yet released any plans for how they will distribute this aid or make food purchases. Organic Farmers Association has been working to let the USDA and Congress know that organic producers need to be included in any response, including direct aid to producers or food purchases. And we are working with allies to urge the department to find other ways to help, such as technical assistance for farms that sell direct to consumers (through CSAs, farmers markets or farm stands) to transition to online sales, speeding up payments to offset what farms pay for organic certification, and helping to ensure that farmers markets are declared essential services so they can remain open.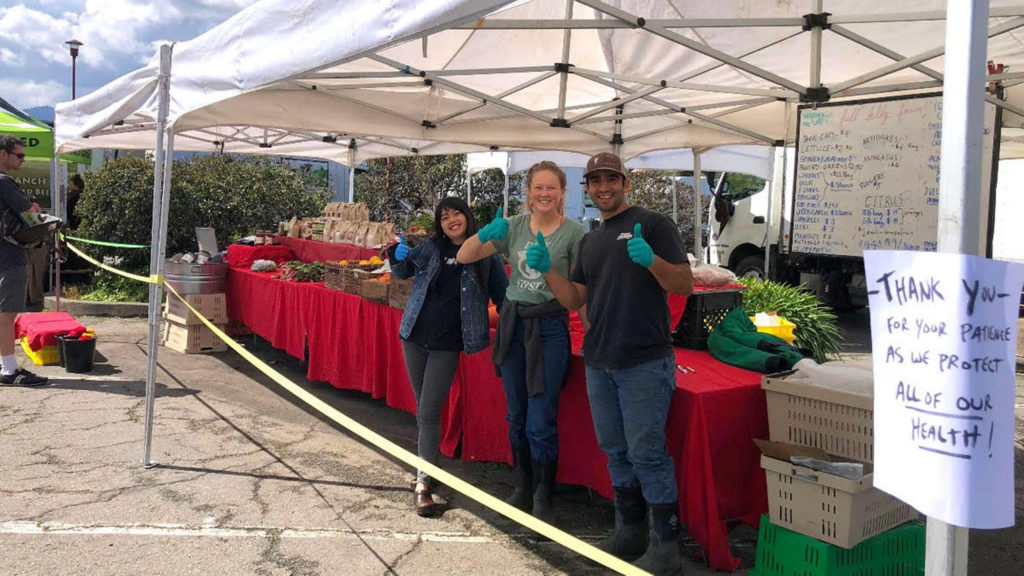 Learn More About Organic Farmers Association
Protecting the Integrity of the Organic Label
Organic Farmers Association is also working to make sure that the normal duties of the USDA continue during the pandemic – including the enforcement activities we need to make sure the organic label is one that consumers can trust. We are communicating with the USDA, organic certifiers (which inspect organic farms) and farmers to figure out how organic inspection and oversight can continue even during the disruptions caused by COVID-19. And we are keeping the pressure on the USDA to finish up the process of writing new rules for how imported organic foods are verified and stronger standards for how livestock, especially dairy cows, are transitioned to organic—a long overdue change we need to crack down on factory farms that are putting smaller-scale organic dairy farms at a disadvantage.
How You Can Help
Join to Support Farmers
Join Organic Farmers Association today as a Supporter Member so OFA can continue to advocate for organic farmers on the hill during this important time.
Call Your Elected Officials
If you want to tell your members of Congress to support organic farmers, the best way to reach them is likely to be email, since many congressional offices have shifted their staffs to working remotely. You can find contact information for your Representative at www.house.gov (use the "Find Your Representative" box at the top right and then go to your member's website and look for a Contact tab) and your two Senators at www.senate.gov (go to the "Senators" tab and then "Contact" to find the Senators from your state.)
Tell them that any response to the pandemic must:
Make sure that organic farmers are included in USDA's aid payments and commodity purchases
Include organic farmers in emergency disaster payments, emergency farm loans and loan forgiveness at the USDA and Small Business Administration (SBA), especially the Economic Injury Disaster Loan program of the SBA
Ensure that farms, farmers markets, farm stands, and CSAs are deemed essential services and have the same status as retail stores when it comes to social gathering and loss of income
Make sure that the USDA finishes its ongoing work to develop new rules on strengthening organic enforcement and the origins of organic livestock.
Watch the Organic Community in Action
The National Organic Standards Board is an advisory committee made up of volunteers who make recommendations to the USDA about updates or changes to the organic standards and what materials organic farms and businesses are allowed to use. Normally the board meets twice a year, in person. Because of the pandemic, the meeting in late April will take place online. If you want to see all of the work that goes in to creating the standards behind the organic label, check out part of the meeting! Dates, times and how to view the meeting are available on the USDA's website and you can read the public comments submitted by Organic Farmers Association here.
Join Us
Organic Farmers Association is a membership organization. Not a farmer? You can join as a supporting member to give organic farmers a voice on policy issues in DC. We can't do our important work without your support.
For more updates on our research and programming, follow us on Facebook, Instagram, and Twitter.