An experienced organic wheat farmer shares his views on the present and future of agriculture.
When Bob Quinn became the fourth generation to farm his family's land near Big Sandy, Montana, he had an advanced education, including a Ph.D. in plant biochemistry. He relied on the agricultural chemicals that he had learned about in the classroom and in the fields with his father. A few years later, Quinn met a Montana organic farmer whose methods and results captured his attention, and he began to study how to apply them to his family's grain-growing operation.
In 1986, Quinn started testing organic methods on an experimental plot that constituted 1 percent of the family's cropland. He had what he describes as "immediate success:" Within three years, the operation had stopped using all chemicals, and the whole 2,400-acre farm was fully organic.
"Within a couple years, I saw that organic agriculture was improving the agronomic and economic basis of my farm," says Quinn, who received the Rodale Institute's Organic Pioneer Award in 2013. "After about three to four years, we were able to farm without an operating note [farm loan]."
During this same period when Quinn was transitioning to organic farming, he also developed an interest in khorasan, an ancient strain of wheat that he has since branded as "Kamut" (pronounced KA-moot). Compared with standard types of wheat, this grain is higher in protein and easier for many people to digest (though it does contain gluten). The family started a company called Montana Flour & Grains and began connecting to producers of natural foods. In 1986, the first pasta made with Kamut flour was introduced to the health food market, and in 1989, the flour was used for packaged bread products. Today, products containing Kamut are widely available and include items such as pizza, pancake mix, breakfast cereal, energy bars, and pastries.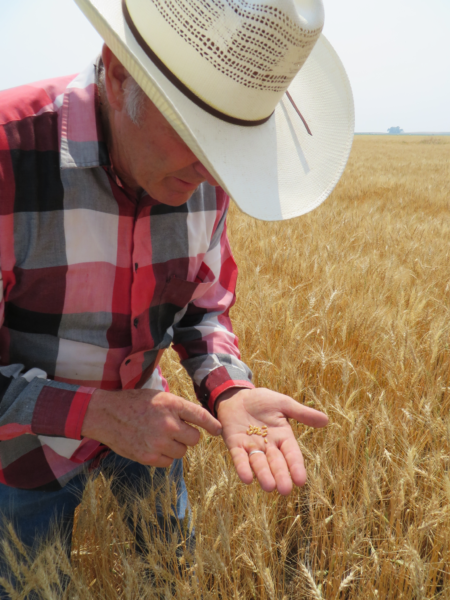 Quinn believes that producing and bringing unique, nutritionally potent products to the marketplace is a smart strategy for new and transitioning organic farmers. "Heritage crops can give organic producers an edge because the crops are not adapted to chemical systems but may work very well with organic methods," says Quinn, the author of a new book called Grain by Grain: A Quest to Revive Ancient Wheat, Rural Jobs, and Healthy Food. "Many of the heritage crops have a nutritional value that's been lost in the breeding of new varieties suited to growing with chemicals. As organic farmers, we are in the business of producing healthy food."
While Quinn encourages organic growers to try uncommon crops, he recommends gradual changes and thoughtful assessment of the marketplace. He suggests that transitioning farmers start with certifying just 20 percent of their land. "It may take five years to convert your whole farm to organic," he explains, "but in that time you will learn a lot about what works for you and what customers will buy without putting your whole operation at risk as you figure it out."
The learning, Quinn emphasizes, never ends, even for experienced farmers. He acknowledges, for instance, that he took 10 years to realize that rotating cover crops is as important as the cycle of planting different cash crops in his fields. "Organic farming is fun and challenging because you never stop finding ways to do better," he says. "I've learned that you'll never arrive at a perfect system, but you can always be perfecting your system."
As a longtime leader in the organic agriculture community, Quinn was among the founders of Organic Farmers Association. He recognized that while organic industry groups shared some of the concerns and goals of growers and ranchers, farmers needed a voice of their own. "I had been participating in policy discussions and advocacy with the wide community of farmers, and I thought we needed a group to represent organic producers specifically," Quinn says.
Now 30-plus years after converting his operation to organic, Quinn believes that regenerative organic agriculture is more important than ever. "The 70 years of experimenting with chemical farming is coming to an end," he says. "Consumers are showing they want food that's safe and good for them. Organic farmers are reconnecting for the public the link between food and health."
Regenerative organic agriculture will also be crucial to combating the effects of climate change on our nation and the world, Quinn explains. "Organic systems are diverse, and by definition they are designed for resilience and adaptation to different conditions," he concludes. "We are the key to the [healthy food] crisis in America and the solution to the challenges of climate change."
To learn more about Quinn, his family farm, his book, and his views on a wide range of topics, go to bobquinnorganicfarmer.com.
For more updates on our research and programming, follow us on Facebook, Instagram, and Twitter.
This article originally ran in the fall 2019 issue of New Farm Magazine, the magazine of the Organic Farmers Association. All OFA members receive a complimentary issue of New Farm annually. Join today.