There's a lot to look forward to this year at Rodale Institute, from the launch of our new Virtual Campus to the expansion of our Ambassador network and everything in between! We're excited to share the latest updates and initiatives with you here.
Rodale Institute Virtual Campus Now Open
The power to heal people and the planet is at your fingertips! Rodale Institute's new Virtual Campus, launched in January, is an on-demand education platform featuring online courses taught by Rodale Institute's experts, partners, and fellow farmers.
The Rodale Institute Virtual Campus debuted with two on-demand courses and is slated to expand in the coming years. Here's what you can expect to find:
Transition to Certified Organic Agriculture is for anyone interested in pursuing organic certification. Featuring content from crop planning to successful marketing, this course is instructed by Rodale Institute Organic Crop Consultants, scientists, partners, and real organic farmers from around the country.
Hobby Beekeeping will teach you everything you need to know about operating your own hives. Led by Rodale Institute's resident beekeeper, this course builds on years of experience in treatment-free beekeeping and covers equipment, honeybee behavior, pest management, honey harvest, and more.
Rodale Institute's online courses are designed to be self-guided and never expire. Participants receive a Certificate of Completion after finishing the course curriculum.
Funding for Transition to Certified Organic Agriculture provided by the Hearst Foundations, national philanthropic resources for organizations working in fields of culture, education, health, and social services. Rodale Institute's 2020 Virtual Field Day is also available on the Virtual Campus.
Empowering Farmers
Farmers today still face barriers to transitioning to organic. Rodale Institute is easing these challenges by thinking beyond technical assistance and working with partners who can provide access to land, long term contracts and market opportunities, and vital infrastructure to farmers in transition.
Here are some of the ways we're partnering to ensure farmers have the resources they need to succeed:
Bell & Evans U.S. Organic Grain Initiative: This program aims to convert an additional 50,000 U.S. acres to certified organic over the next six years. Farmers who transition to organic under this program will receive consulting from Rodale Institute and guaranteed contracts and market from Cargill and Bell & Evans.
SLM Partners Land Access: Rodale Institute is working with SLM Partners, an environmentally-focused investment manager, to study organic soil health and establish long-term flexible land leases for farmers transitioning to organic.
Contact Rodale Institute's Consulting team (Consulting@RodaleInstitute.org) to learn more about getting involved in these programs.
Meet Our Newest Experts
Say hello to Rodale Institute's newest Organic Crop Consultants! Léa and Nic will be working closely with the team at the Rodale Institute Midwest Organic Center to transition Midwest farmer to organic.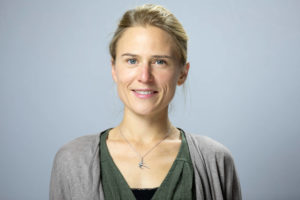 Léa Vereecke grew up on a grain farm in France and most recently worked as a Research Associate at the University of Wisconsin-Madison studying organic row crops & tillage. Based in: Madison, WI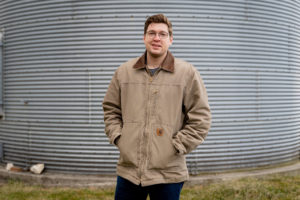 Nic Podoll is a lifelong organic farmer and has worked in Extension for the University of Minnesota & North Dakota State University. Based in: Nevis, MN
Farming Systems Trial: Celebrating 40 Years
North America's longest-running side-by-side comparison of organic and conventional farming—Rodale Institute's Farming Systems Trial—is celebrating 40 years!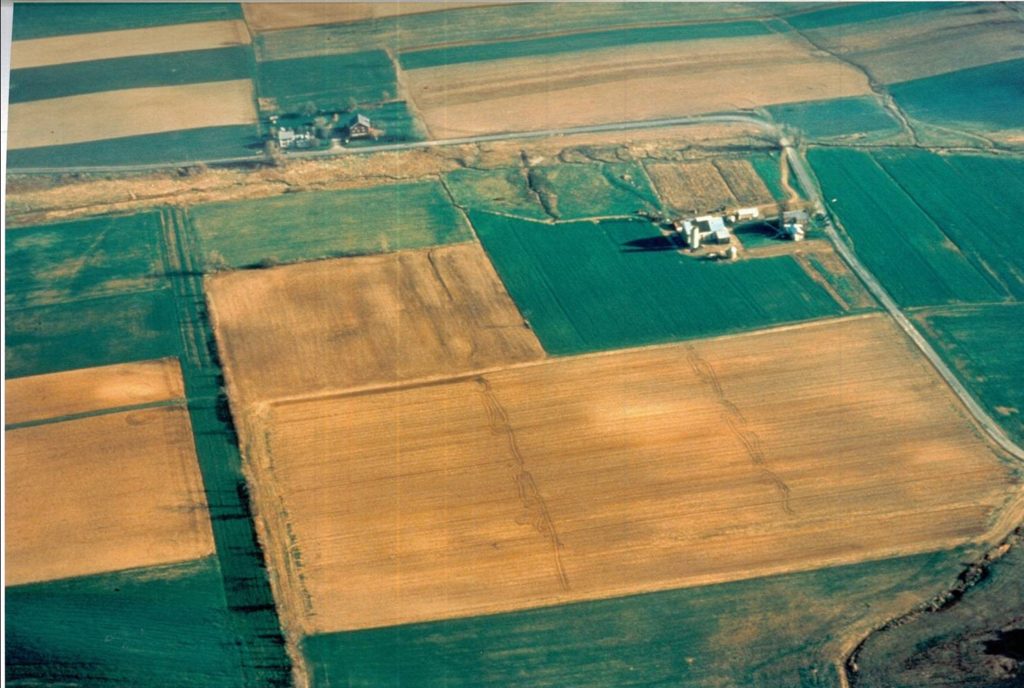 Inspired by the work of Lady Eve Balfour and Alice Debenham in England, the Farming Systems Trial (FST) was developed in 1981 to show scientifically that organic farming could be performed at scale in North America. In the 1990s, FST would provide a scientific backing for the recommendations being made to the newly established National Organic Program.
Today, FST operates on 12 acres growing organic and conventional corn, soybeans, and wheat. Over four decades, FST has concluded that organic systems are not only competitive with conventional in terms of yields, but use less energy, emit fewer greenhouse gas emissions, and are more profitable for farmers.
Looking forward, research plans for FST include analyzing the potential of soils to sequester carbon and fight climate change, as well as measuring the effects of till and no-till strategies within organic and conventional systems.
In the next decade, FST will continue to serve as a research site for analyzing farming's impact on water quality, in collaboration with Stroud Water Research Center. Researchers will also compare levels of key disease-fighting vitamins, minerals, and amino acids, such as ergothioneine, in FST's organic and conventional grains as part of a study on nutrient density.
We look forward to the next forty years!
Learn More About Our Farming Systems Trial
Hemp's on Top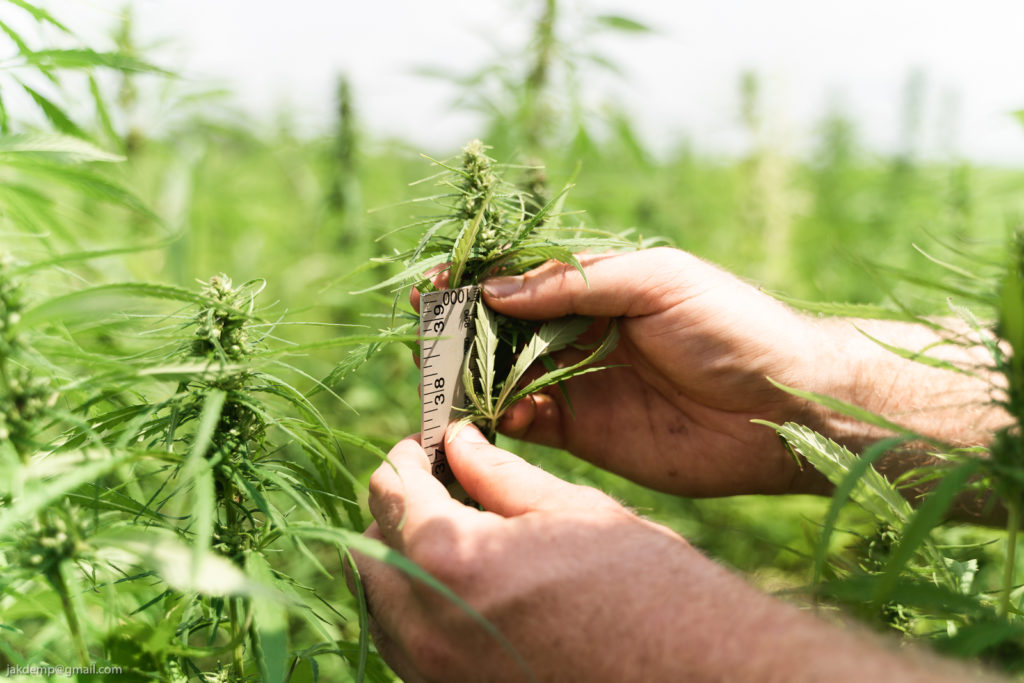 New research from the Rodale Institute California Organic Center shows that "topping," a form of pruning that removes the tips of new shoots and leaves, increased the biomass of two varieties of industrial hemp. This practice ultimately increases the amount of hemp plant a farmer can bring to market, increasing their bottom line.
RODALE INSTITUTE CALIFORNIA ORGANIC CENTER
Certifiably Certified
We're proud to announce that the Rodale Institute Southeast Organic Center in Chattahoochee Hills, Georgia has received USDA Organic certification on 85 acres through the Georgia Crop Improvement Association Organic Certification Program.
13 of the Center's 15 growing fields, as well as the greenhouses, are officially recognized as organic. Our Southeast staff will use the remaining two conventional fields to grow conventional crops for side-by-side comparison research.
Thank you to all our staff who made this a reality!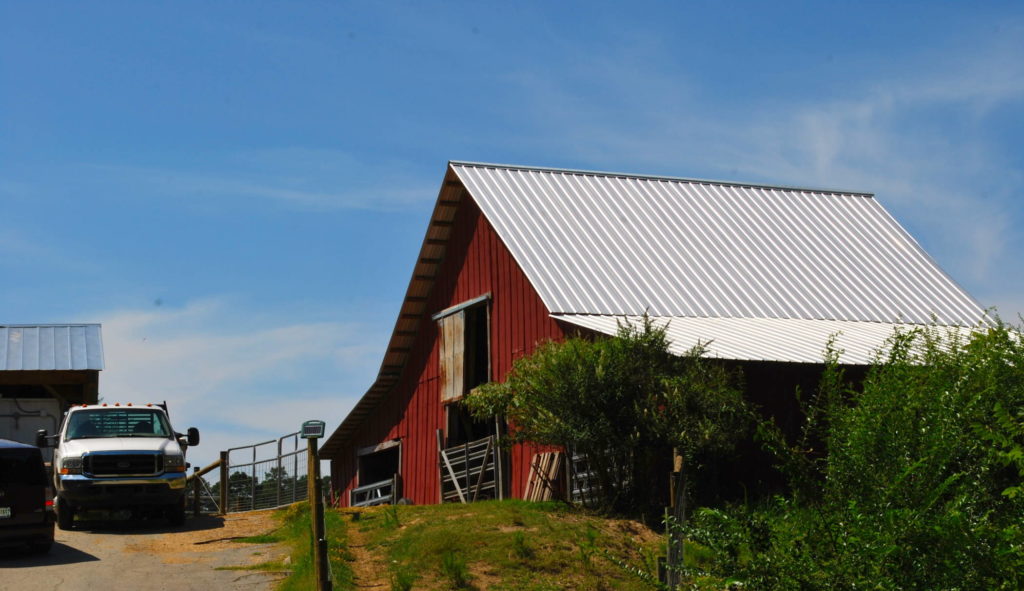 RODALE INSTITUTE SOUTHEAST ORGANIC CENTER
A City Oasis
A new educational display and interactive hub from Rodale Institute's Grow Clean Water initiative has made its way to The Viaduct, a "secret garden" under Philadelphia's Reading Viaduct Rail Park, in the Spring Arts section of the city.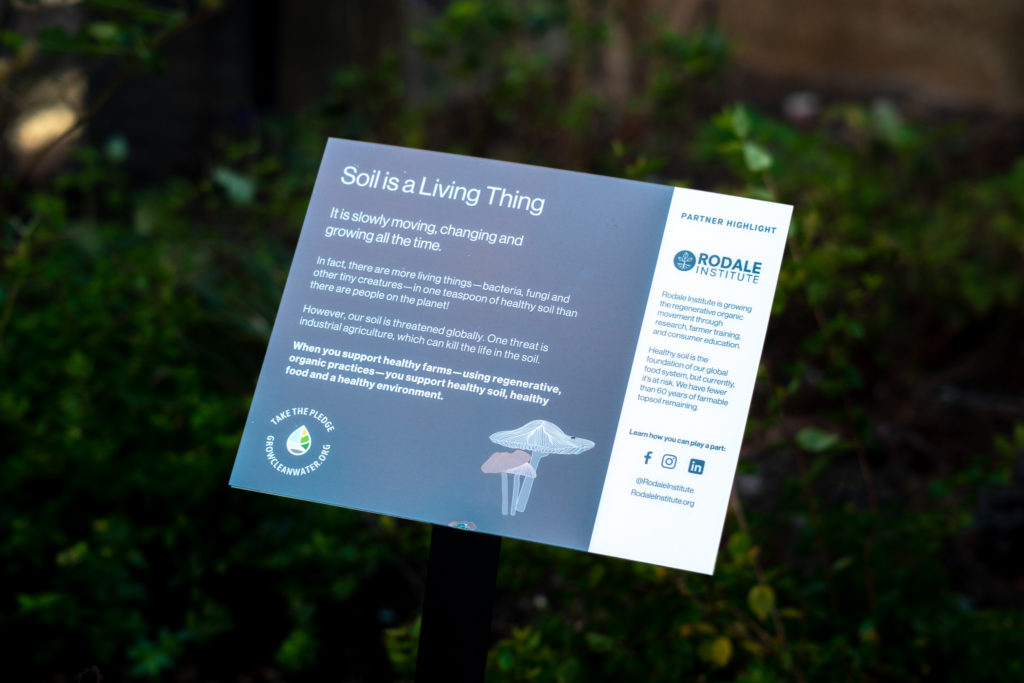 Dubbed a "Grow Clean Water hub," this educational installation describes the links between organic farming, healthy food, and clean water for families in the Philadelphia region.
Visitors to the Grow Clean Water hub at The Viaduct can view educational signs around the garden explaining the importance of healthy soil, native plants, compost, pollinators, and more.
The Grow Clean Water hub also features a scavenger hunt coloring activity that encourages families to visit each of the educational displays. The Viaduct is home to Maidencreek Co.'s build-your-own bouquet bar, pop-up markets with local artisans, and more.
The Grow Clean Water hub at the Viaduct will host an Earth Day celebration on April 24, 2021. This family-friendly event will bring small groups together for interactive stations revolving around food, organic farming, and water, teaching families how to make a difference in their own homes.
Grow Clean Water Hub
On The Move
At the end of 2020, four participants in Rodale Institute's Veteran Farmer Training Program decided to extend their training with us and head to our partner farm, Pocono Organics.
Here, trainees like Wilson Allen, an Air Force veteran who is pursuing a future in small-scale organic agriculture, can experience the many ways of growing food—whether it be at an experimental research farm like the Rodale Institute headquarters, or the innovative farm-to-track model at Pocono Organics.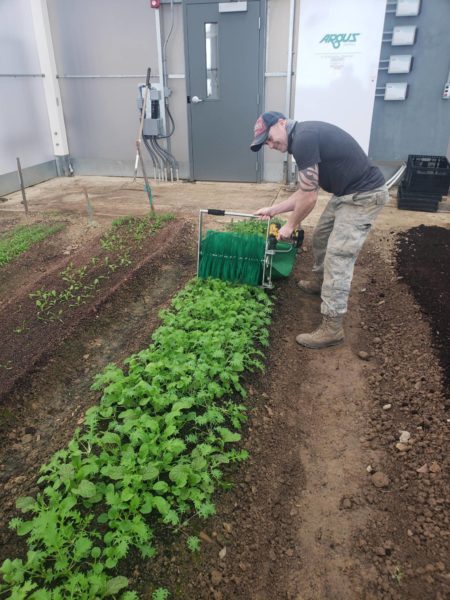 Trainees in the Rodale Institute Veteran Farmer Training Program are encouraged to spend time at all our Pennsylvania campuses, providing the full scope of education and training needed to be successful in their future careers.
Click Here to learn more
Welcome New Ambassadors!
Rodale Institute is excited to expand our Ambassador Network! Early this year, we welcomed several leaders in food & farming to our network. Follow them to see more about their organic journeys.

Becca Skinner, Photographer, writer & conservationist @beccaskinner
Timothy Hammond, Gardener & grower @bigcitygardener
Christa Barfield, Urban farmer & healthcare professional @FarmerJawnPhilly
Joe Lamp'l, Television & podcast host @joegardener
See the full list of our Ambassadors
Perennial Partner: Lindsey Kleinberg
As a mother of two young children, as well as an artist, environmentalist, and educator, Lindsey Kleinberg does everything she can to model a lifestyle for her family that actively improves the world around them.
Part of that modeling is giving back, in the spirit of making the world a better place. That's why Kleinberg has recently become a member of Perennial Partners, Rodale Institute's new monthly giving program.
"Rodale Institute not only sets an example of how to heal the Earth, but it also provides educational opportunities, hands-on experiences, community outreach, organic food options for urban areas, and prepares others to go out and continue the good fight," said Kleinberg.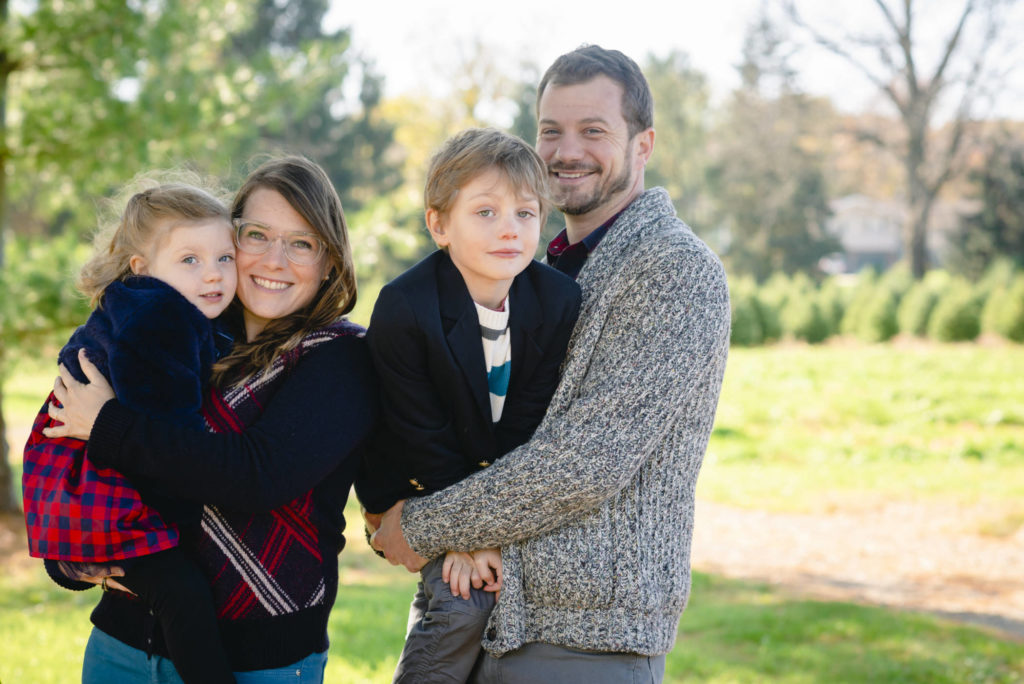 Kleinberg knows that giving to Rodale Institute monthly is a way to ensure that the programs, events, and research that she cares so deeply about can continue.
"I want to do whatever I can to make the world a better place," explained Kleinberg. "I've got to start small. I vote with my voice, my time, and my dollars. I vote to live in a healthier world."
Perennial Partners are a community of core partners working to make a difference. They receive exclusive bi-annual impact reports about
our work. Join Perennial Partners today at RodaleInstitute.org/PerennialPartners.
Support the Soil in Style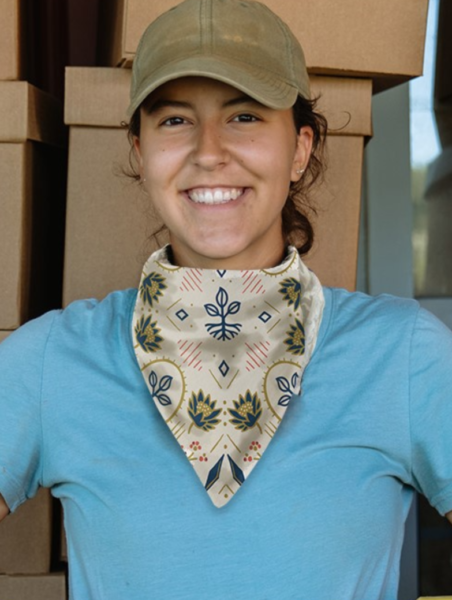 When you join Perennial Partners with a monthly gift of $10 or more, you'll receive this special limited-edition organic cotton bandana from our friends at Gallant! Show your steady support for Rodale Institute by wearing yourself or even modeling it on your furry friend!
Join Rodale Institute's monthly giving program
Get Involved
Starting March 2021, Rodale Institute is partnering with GIANT grocery stores to feed our communities healthy, organic food. Visit a GIANT store today and round up to the nearest dollar on your grocery bill to donate to nonprofits like Rodale Institute who are working to heal people and the planet.
For workshops, webinars, events, and so much more, check out our Rodale Institute Events Calendar.
---
From all of us at Rodale Institute, thank you for your support as we begin a new year! We're excited to share these exciting developments with you and to continue to grow a regenerative organic future in 2021.
For more updates on our research and programming, follow us on Facebook, Instagram, and Twitter.