They say variety is the spice of life and, boy, do we have variety here in the Rodale Institute organic apple orchards. Some of our apples you'll recognize as widely-available and familiar favorites, but some you will only find here. As a former research orchard, we have a number of experimental varieties to tickle your tastebuds. Keep in mind, since our trees were planted for research and varieties are often scattered far and wide, each bushel will provide a unique flavor combination. Pick-your-own kicks off with our Fall on the Farm and continues until the trees are bare. Hope to see you at the farm this fall!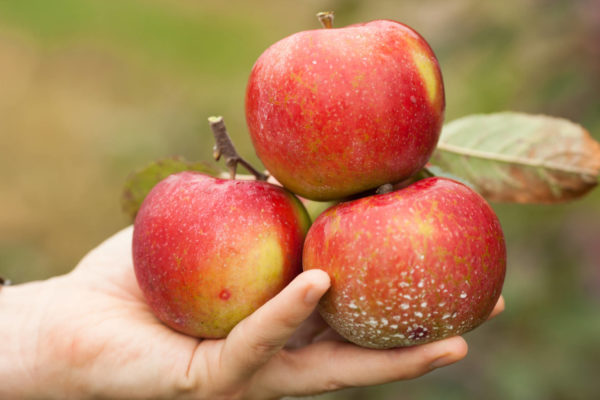 Which is your favorite organic apple?
Freedom: Juicy apples with yellow skin. Very crisp with a sweet and tart taste. Excellent for sauce, baking, freezing and eating.
Empire: Sweet, crisp apples have bright white flesh. Can be stored for a short period, but are best when eaten straight from the tree.
Liberty: Best for eating fresh, but also store well. Red skin and a juicy, sharp flavor.
Rome: Mildly tart apples with a firm greenish center. Good for baking, sauce, salads, pies, and freezing.
Priscilla: Medium-sized apples with a slightly greenish to white flesh. Crisp and tart.
McIntosh: Beautiful red apple with white flesh that is firm, tender and very juicy.
Red Stayman: Juicy and tender apple is medium to large in size and slightly tart in flavor.
Golden Delicious: Sweet to taste and ideal for making salads, sauce and butters.
Mutsu (Crispin): A cross between Golden Delicious and Indo apples and has a moderately sweet flavor.
Macoun: A cross between McIntosh and Jersey Black apples. It has a deep red coloring and is the perfect dessert apple. It is extra sweet, aromatic, and juicy with a hint of crunch.
Baldwin: Firm, juicy and aromatic. Good cider base and great for pies.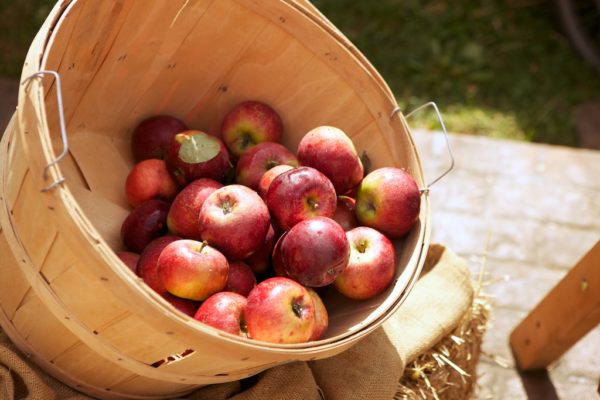 Prima: An attractive, medium-sized apple that makes an excellent sauce.
Granny Smith: Tart, green and crisp. An excellent keeper.
Jersey Mac: Tart, tender, and early-ripening fruit is a good choice for McIntosh lovers who just can't wait for the Macs to mature.
Northern Spy: Tart, crisp and very tender. Good for all purposes except drying.
Nova Easy Gro: The snow white color and large size makes this a very good apple for eating, but give it time on the shelf. This variety is tough at picking, but mellows during storage.
Ida Red: Great keeper with mild apple flavor.
Blue Pearmain: An American heirloom and has firm, coarse flesh. A favorite of Henry David Thoreau.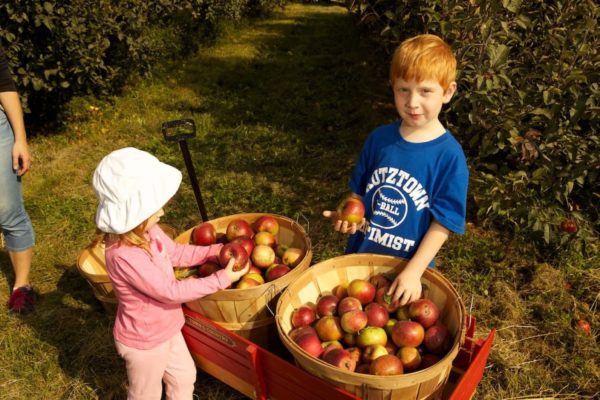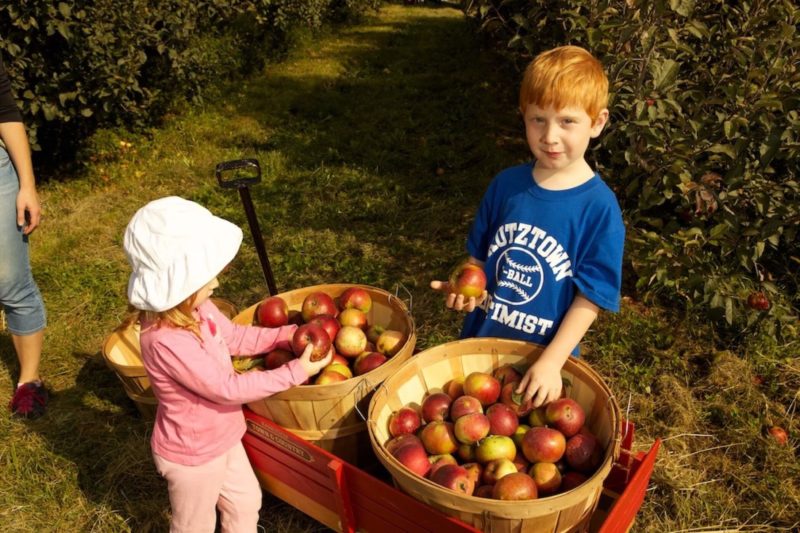 Pristine: Yellow apple with smooth, glossy skin. Fruit is high in sugar content with very good keeping quality.
William's Pride: Medium- to large-sized fruit, slightly striped with dark purple/red. The flesh is firm, very juicy and spicy with a rich, aromatic flavor. Keeps very well, and is good for both fresh eating and cooking.
Lodi: Crisp and juicy apple with a sharp flavor. Ripens late and keeps well. Best for baking.
Akane: Fantastic dessert apple with an invigorating tart taste. Retain their shape and tartness when baked. Leave the tender skin on when making sauce for a great pink color and a sweet-tart flavor.
Dayton: Large, glossy red apple with a good, full-flavored desert quality.
Co-op 27: Excellent keeper that retains flesh texture and quality for up to six months after picking.
Co-op-28: These white- to cream-colored, firm apples are juicy and have a rich flavor.
Co-op 29: A late golden type with yellow flesh.
Co-op 30 (Enterprise): Sharp flavor and good for keeping. Can be stored for 3-6 months in the fridge. Best as a cooking apple.
Co-op 31 (Wine Crisp): Mildly-tart and spicy, rich-flavored and juicy apple. Excellent storage apple that retains texture and quality for six months or more in the fridge.
Brown Russet: Classic heirloom variety with tough brown skin and incredibly sweet flavor with notes of cider and honey.
Tydeman's:  Early McIntosh-type apple. Soft, sweet flesh with thin, red streaked skin. Good dessert apple, but doesn't store well.
Experimental varieties: 75414, 74828 and 75441 (Kimike).
Comment your favorite kind of apple below! 
For more updates on Rodale Institute's research and programming, follow us on Facebook, Instagram, and Twitter.