Brent Alderfer owns Spring Creek Farm on 125 acres in Solebury Township, near New Hope, PA. They are in the process of becoming certified organic for vegetables and beef through Rodale Institute's Organic Crop Consulting Service.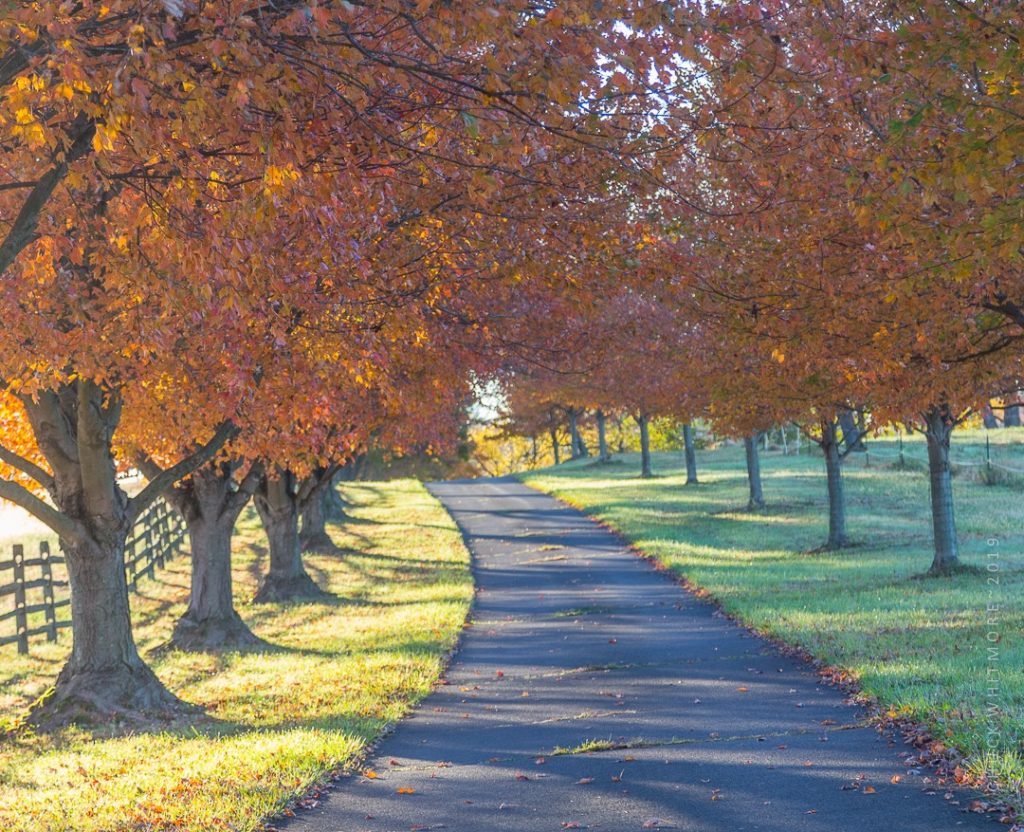 1. Can you tell us a bit about your operation?
We have 125 acres in Bucks County, PA and 50 acres across the river in Huntingdon County, NJ. We grow vegetables for farm members who come weekly through the summer and fall to pick up fresh vegetables. They can purchase what they want; it's a flexible member farm market operation. And we have chickens, eggs, and cattle. We have about 30 head of beef at any given time, so we have grass-fed, grass-finished local beef. And, those are our main offerings.
We started the NJ operation 9 years ago. CSAs were just beginning to get popular at that time so we opened with a traditional CSA concept of a boxed-share membership where everyone got the same share every week. That's expanded over time to a much more flexible member farm market with customer choice.  A member may not want a share of kale every week and may want more peas or beans, so members can choose what they want.
2. What was your inspiration to certify the farm in NJ and what is your inspiration to expand the farm in PA?
Well, in both cases, we are looking to create local, regenerative farming in the broadest sense, which means that we have a love of farming that comes from being on a natural farm with green plants, flowers, trees, and animals–chickens, cows, and sheep– living healthy and natural lives among fields and meadows. It's that traditional feeling of a farm; what most people think of when they think of a farm is really what we wanted to reproduce. The reason to do that is because it produces not only a great place to be and work and to invite people in so they can stay in touch with their farmer and their food; it also produces healthy, great tasting food that doesn't sit on a truck or in a warehouse for a week before you eat it. So, we are inspired to bring back that farm feeling that gives everybody peace and joy. And we are looking to provide healthy, local food that's more and more in demand for health reasons, taste, and nutrition. So in addition to sustainability, our inspiration is based on those two things together: sharing the traditional farm experience and producing good local food.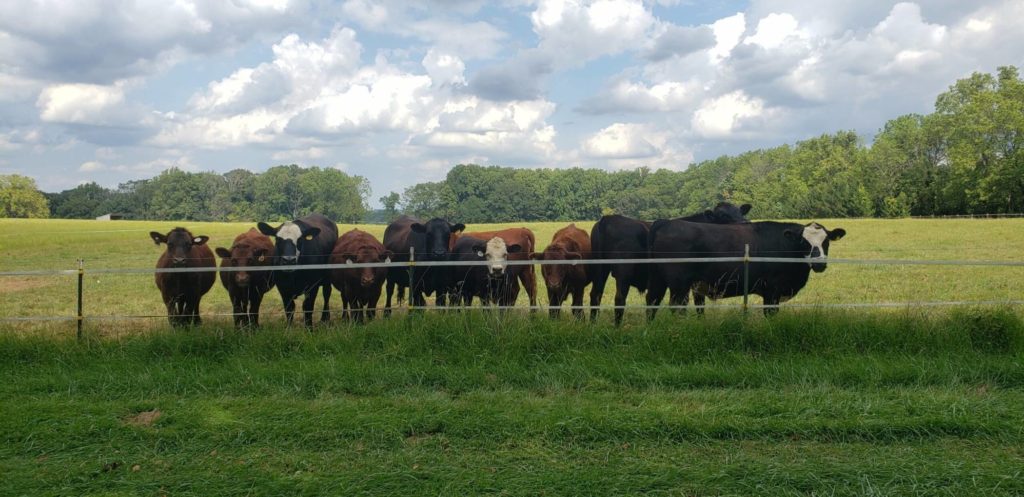 So many of the things we are doing go beyond certification: regeneration of the soil, things that work for local food and taste, etc.  But the organic certification is the reference point and basic level of assurance, for us and for our customers, that we aren't using inputs or practices that got farming in trouble in the first place: petrochemicals, pesticides, damage to the soil, damage to the crops, and the related negative health impacts. So our motivation for organic is that there's a lot of research and experience that went into organic certification standards and we wanted that as our starting point, on everything.  We wanted to keep the crops not only looking good but healthy, to maintain good soil microbiology and prevent toxin build up in the soil long term. So we could reinvent all that but organic certification already did that work and gives a seal of approval that we trusted as our start. And then we can build and restore our natural farm on top of that, but that was our baseline. That's why we started and have stuck with organic certification.
3. What has been the biggest stumbling block to certification and how are you working to overcome it?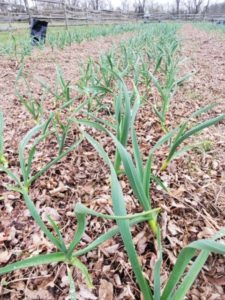 As for stumbling blocks it's almost the same thing. Not only is there a baseline that organic certification gives us but there are a lot of the details we don't know and organic practices to learn as we go along that may or may not be obvious, such as seeds, mulch, what's permitted with equipment and manure, when you apply what for health and other reasons.  So, the stumbling block is really accessing the necessary information when you need it. When you are ready to make a decision in the field you can't go research organic certification to see if this or that use is permitted or not. So, it's the host of questions that is the biggest barrier.
That's why the Rodale Institute expertise and ability to check in with questions and resources is just fantastic. It brings all the body of information to bear when you need it. So, the two together – the research and depth of organic certification that's been developed, along with Rodale Institute and the expertise to deliver the information when you need it is a powerful combination for anyone who wants to be an organic farmer.
4. What advice would you give another farmer considering transitioning to organic?
Just do it. It's the foundation to build on. Why reinvent it or create confusion with your customers or your farm staff when it's already laid out. Just do it as the foundation.
5. We all know that farming is extremely hard work, often requiring long days in difficult conditions. What motivates you to get up each day and keep going?
I am the farm owner but my full time work is in renewable energy and solar across the country. So I don't get to farm every day but I am part of the team and support it as the farm owner.  Both for our lead farmers and for me there are a few things but the main one is knowing that we need to come together to get sustainable farms back for our children and the next generation, to recreate the picture that shows up on organic food labels, supermarket shelves, and cereal boxes. The picture of that farm is what we all have in mind- the traditional family farm, animals restoring the soil, cows eating and fertilizing grass, butterflies and birds- we know we have to recreate that just for sustainability and health alone, but the double payoff is we get to enjoy it with our friends and family. That's what keeps you going in terms of investment. It's got to be done. We can't keep going the same direction. Industrial chemical-based farming doesn't lead to a sustainable future, so that's the one driver. But probably what I alluded to earlier is even stronger:  the smells, beauty, and peace that comes from being out on the farm every day. It might be tough in the rain and the snow but when the sun comes out, animals are born in spring, crops push out of the ground, first blueberries fruit, and butterflies show up and monarchs migrate back across the property in the fall– that's what really keeps us going. You have the mission but then you have the experience and there's nothing quite like it. I would say that's what keeps our farm members coming back too. It is healthier, fresher and more nutritious food and they like that, but most of them say they just love coming out, being on the farm, seeing the chickens, lambs and baby calves, and picking up the vegetables. There's something pretty deep about farming and farmland and being on it and around it, and I think that's really what keeps us going.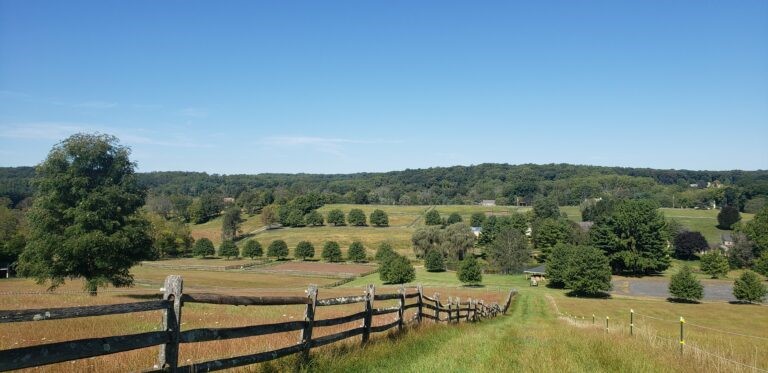 6. Is there anyone who has influenced you in your farming journey that you want to tell us about?
Thinking back, it's probably mostly the Mennonite farmers that I watched as a kid in Montgomery County. I watched them in the fields. They were rotating crops, fertilizing with manure, and fighting pests and predators with their smarts and experience, rather than chemicals. I watched them rotate clover through or soybeans and then maybe corn and wheat. Again, the experience of watching that work and what it produced was probably my strongest image. I didn't grow up on a farm but grew up with farms around me so maybe I was just far enough from all the hard work that farming is still pretty romantic for me as an adult. I wasn't totally daunted by it, even though it is hard work. I think that's the inspiration for me really- how much they knew and how much they produced in harmony with the land. It was very impressive to watch and I think we need more of that back.
7. Are there any fundamental farming "lessons" that you have learned in your farming career that you would like to share with farmers who will read your interview?
Keep going. It's a worthwhile mission to keep farms in everyone's life. When you do you see the enjoyment it brings. So let's inspire each other.
About This Story
Brent Alderfer is working with  Organic Crop Consultants at the Rodale Institute, through the FREE consulting service program available to Pennsylvania farmers transitioning to organic. Farmers that are interested in receiving consulting services can contact the Rodale Institute directly at 610-683-1416 or e-mail at Consulting@rodaleinstitute.org. Wherever they may be in their transition to organic, or if they are starting a new farming endeavor altogether, Rodale Institute aims to support farmers and landowners that strive to be good stewards of the land. Consultations typically begin with a phone call, followed by a site visit and initial discussion session.
This article originally ran in the spring 2020 issue of Organic Matters, the magazine of the PCO.
For more updates on our research and programming, follow us on Facebook, Instagram, and Twitter.