Rodale Institute officially welcomes the Rodale Institute Pocono Organic Center at Pocono Organics as its fifth Regional Resource Center in April 2022. In this guest blog post, Pocono Organics Founder & President, Ashley Walsh discusses her inspiration for the groundbreaking farm, and how they're leading the charge to advance regenerative organic agriculture.
Some of the best opportunities start with a conversation. In my case, the conversation actually started as a cold call to Rodale Institute in December of 2017, when I shared my vision for building a regenerative, organic farm in the Pocono Mountains and to support Rodale's vital mission of healing our soil.
That led us to break ground on Pocono Organics in July of 2018 in the middle of 50 acres of open field that once was a spinach farm in the 1940s – around the same time J.I. Rodale was sharing the message that healthy soil equals healthy food that equals healthy people!
With Maya Rodale, Jeff Moyer, and many others from the Rodale team in attendance, we shared our vision for a future where we would grow healthy, nutrient-dense food in the middle of a food desert and serve as a satellite research farm to expand Rodale's ongoing soil studies.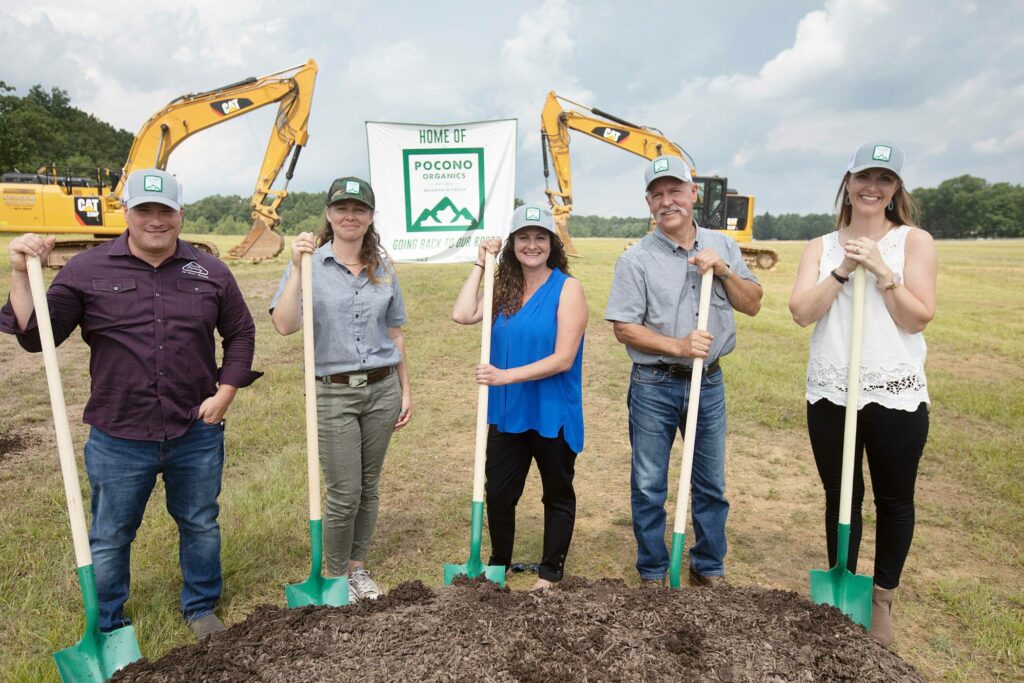 So, from Day 1 at Pocono Organics, all of our agricultural practices and methods have been guided by Rodale, operating within the rigorous regenerative organic standards that include crop rotations, low-till, and zero use of synthetic chemicals and pesticides.
In addition to supporting Rodale's research efforts, we proudly supported (and continue to support) their Veteran Farmer Training program by hosting veteran farmers for six to eight months, where they put their training into practice with our farm team. In fact, the first physical structure built at Pocono Organics was a five-bedroom house designated for veteran farmers!
As our farm grew – literally from the original 50 acres to 90 acres, and now to over 380 acres – so did our partnership and research efforts with Rodale.
The soil studies continued, and we soon expanded to hemp research, which we've been conducting for more than three years. These studies will help us understand the power of hemp, soil health, and how to sequester carbon from the air.
I believe that science is the vital link between consumer education and action, especially at a time when our planet desperately needs to be healed: The United Nations has reported that we have less than 50 planting cycles left before the soil we need to grow our food will be completely void of the nutrients needed to do so!
That is beyond alarming and cannot be ignored, especially as our global population continues to grow. The solution can't be to just grow more synthetic or genetically modified foods. Instead, we need more soil-based, nutrient-dense foods that will heal people and the planet.
Pocono Organics has been recognized as a global center for research, education, and innovation. Now, our evolution from a satellite research farm to becoming one of Rodale's regional resource centers is a sign of our commitment that we still have more work to do – together!
Within our state-of-the-art facility, we have created a lab to host a full-time scientist, as well as other members of Rodale's research team to conduct daily studies at Pocono Organics.
Not only will they have access to our outdoor fields, but also to nearly 40,000 square feet of soil-based greenhouses to explore research ideas in controlled environments.
My hope and vision are that the conversation that began in December of 2017 between two Pennsylvania-based, family-run businesses continues to spark conversations between people around the world. These conversations then lead to action – changes in our buying habits, the way we treat Mother Earth, and using food as medicine to heal ourselves!
Pocono Organics and Rodale welcome you into this conversation as we all have the opportunity to play a role in – not just talking about change, but more importantly – creating the change our world desperately needs.
Will you join us?