During a visit to Rodale Institute's main campus in Pennsylvania, U.S. Senator Bob Casey celebrated former U.S. servicemembers enrolled in the nonprofit's Veteran Farmer Training program. He also shined a spotlight on the Institute's groundbreaking scientific research.
U.S. Senator Bob Casey recently visited Rodale Institute to meet with former U.S. servicemembers enrolled in the Institute's Veteran Farmer Training program. The initiative, which is spearheaded by a former staff officer in the U.S. Army, prepares entrepreneurial military veterans to own or lead agricultural businesses in America.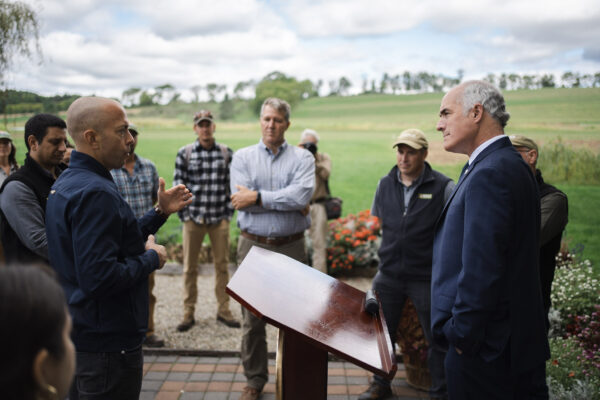 "We're grateful to the veterans who are here for your service to our country and for your continuing service to the nation in this part of your life," Senator Casey said at a press conference at the Institute on Tuesday.
Since the program's launch in 2016, 60 U.S. military veterans have benefited from Rodale Institute's Veteran Farmer Training courses.
"Representing an ag state like the Commonwealth of Pennsylvania, the Senator knows how critical it is that our leaders in Washington support all of the farmers who put food on Americans' plates," said Rodale Institute CEO Jeff Moyer.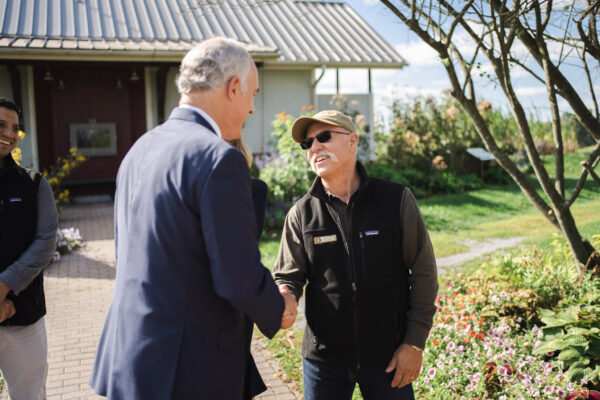 While at the Institute, the Senator also toured the Vegetable Systems Trial (VST) with the organization's senior leaders and scientists. Crops grown in VST's research fields are part of a first-of-its-kind study designed to analyze the differences in the nutrient density of vegetables grown in organic farming systems and conventional farming systems. Data collected from the trial will measure important metrics like a crop's resilience to drought and profitability for farmers.
"You can almost feel the future being invented here at Rodale," said Casey. "There's win, after win, after win when you consider what's happening here."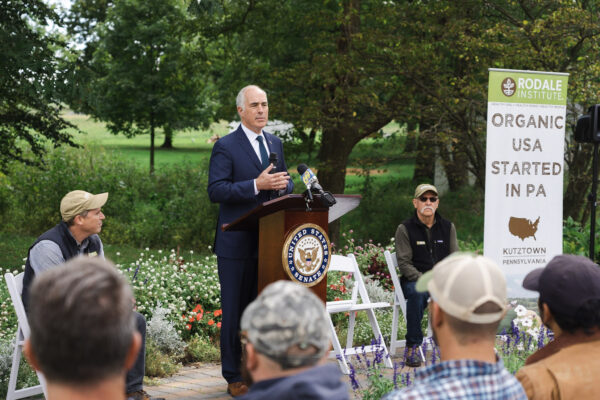 Casey also congratulated the nonprofit's staff on a recent $25 million grant award from the United States Department of Agriculture. The grant will fund an Institute-led project in the Southern Piedmont region of the United States that will measure and promote climate-smart commodities, increase the number of farmers using conservation practices, and improve farming communities in Virginia, North and South Carolina, Georgia, and Alabama.
ABOUT RODALE INSTITUTE: Rodale Institute is a 501(c)(3) nonprofit dedicated to growing the regenerative organic agriculture movement through rigorous research, farmer training, and education. The Institute's groundbreaking science and direct farmer-support programs serve as a catalyst for change in farming and food production worldwide. Over its 75-year history, Rodale Institute has proven that organic farming is not only viable but essential to mankind's survival.