Sometimes the pull of a place is such that you can't help coming back for more.
Such was the case for Bianca Nati, a Scranton, PA native who completed Rodale Institute's farmer training program in 2017–and again in 2021.
Joined for the second round by her partner, Ethan Riddle, Nati knew that their dream of running their own farm would be bolstered by the hands-on experience with regenerative organic farming they would get at the Institute.
Today, Nati and Riddle own and operate The Grower's Grange, a small-scale operation in Corbett, Oregon, with the Columbia River Gorge.
The farm grows only Italian heirlooms, building around the legacy of Nati's grandfather, who continued the tradition of saving and growing seeds brought to the United States by his mother.
"I would say the common thread between Bianca and I is our love of work that keeps us moving," said Riddle. And move they do–within less than a year of operation, the couple has begun selling their vegetables at a farmer's market, an on-farm pop-up, and a Community Supported Agriculture (CSA) subscription in the Corbett area.
Within that CSA, the farmers include a featured crop with a note on its cultural and botanical history, as well as a traditional recipe. In this way, Nati keeps the spirit of the Italian orto, or vegetable garden, that she grew up with alive.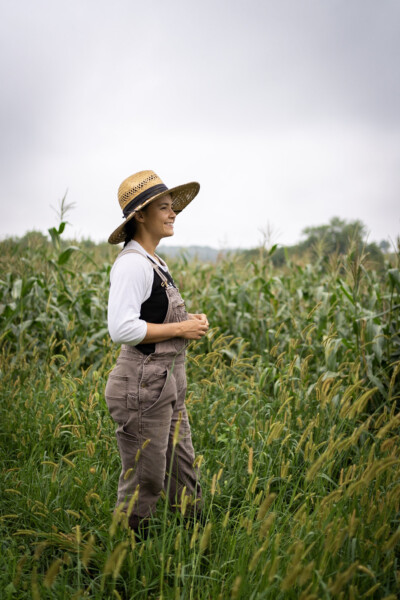 However, even with a deep connection to the food and the land, starting a farm is never easy. The curriculum of the Rodale Institute Farmer Training (RIFT) program, which goes beyond just farming methods to budget management, marketing, and more, was key to helping Nati and Riddle jump directly into their business.
"I think [RIFT] did a great job of introducing us to some of the realities of running a business that until last season we didn't understand," explains Riddle. "Having Dan [Kemper, Rodale Institute Master Trainer] as a mentor and subject was a huge plus."
But the technical aspects of the curriculum weren't the only thing the pair learned during their tenure. One of the most important lessons, according to them, was learning to broaden their agricultural perspective.
Nati's passion for farming and deep family connections to the ethic of growing food led her to be awarded a Growing Change grant in 2021, a program from Rodale Institute Ambassador Jean-Martin Fortier's Growers & Co., which provides funding, tools, and educational materials to 12 small-scale organic farms each year.
For Nati and Riddle, the best part of farming is the aspect of creative problem-solving.
"If it hasn't been done, tried, or I just decided not to ask the internet or a peer, I get all giddy and excited," laughed Riddle. The RIFT program allowed that room to experiment, take risks, and possibly fail within a safe space of educational growth.
Today, The Grower's Grange has the breadth and knowledge of Rodale Institute and its partners behind them, supporting a small-scale farm built on the love and legacy of an Italian-American family from the other side of the country.
Rodale Institute is a 501(c)(3) nonprofit dedicated to growing the regenerative organic agriculture movement through rigorous research, farmer training, and education. Our groundbreaking science and direct farmer-support programs serve as a catalyst for change in farming and food production worldwide. Over our 75-year history, we have proven that organic farming is not only viable, but essential to humanity's survival.