On Friday, January 11, Pennsylvania Department of Agriculture Secretary Russell Redding and Department of Environmental Protection (DEP) Secretary Patrick McDonnell joined six public and private partners in launching the High Performance Farms Initiative.
The initiative will help increase environmental sustainability, economic benefits, public health, and soil and water quality by promoting innovative farming practices in Pennsylvania's part of the Chesapeake Bay Watershed.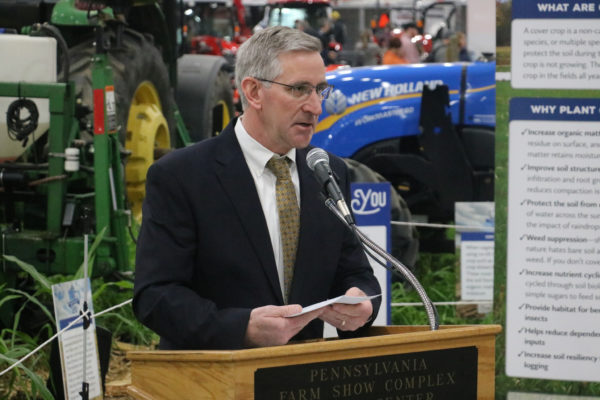 "The health of our farms, soil, and water is inextricably linked to the health of our communities," said Secretary Redding at a ceremonial partnership signing event at the 103rd Pennsylvania Farm Show. "This initiative recognizes that stewardship of our farms and natural resources is also linked to our dinner plates and farm gates."
Joining the Department of Agriculture and DEP in the High Performance Farms Initiative are the State Conservation Commission, Pennsylvania Certified Organic, Rodale Institute, the Pennsylvania Natural Resource Conservation Service (NRCS), and Bell and Evans Farms.
"In Pennsylvania, we want vital communities. We need healthy farms. We rely on economic development that sustains jobs and thriving businesses," said Secretary McDonnell. "The High Performance Farms Initiative represents a growing energy across sectors for expanding partnerships that generate innovative approaches to ensure this quality of life for Pennsylvanians."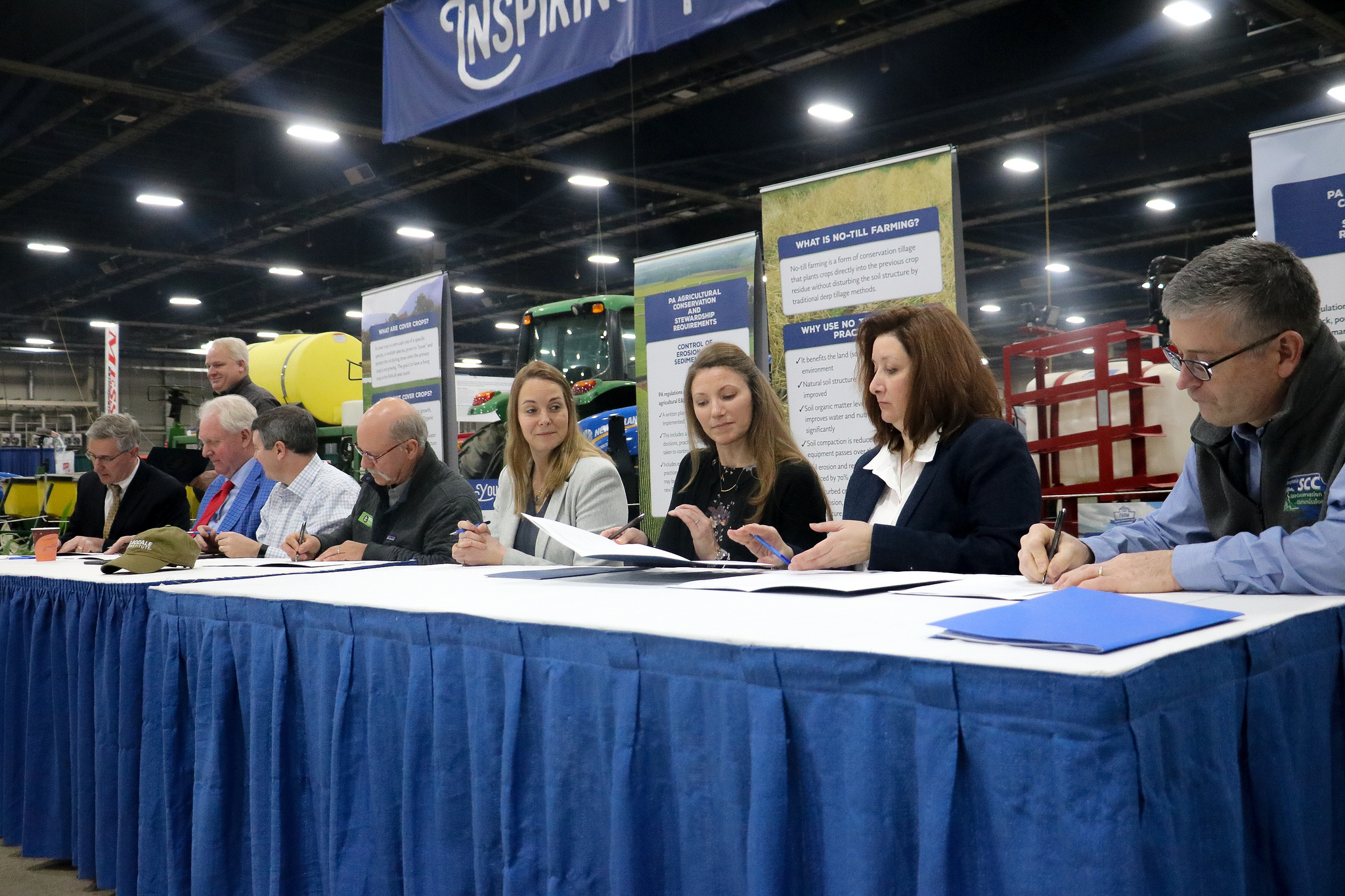 Key Components of the High Performance Farms Initiative
Healthy Waters
Developing cost-effective stormwater management infrastructure (traditional, green and hybrid) in our communities will require the development of holistic watershed-based approaches that integrate innovative strategies and tactics from the urban, suburban and agricultural sectors.
Healthy Soil
The incorporation of practices that result in greater soil health also support improved nutrient management and long-term sustainability.
Regional Approach
The watershed approach is a more holistic, adaptive process to evaluating where and what actions can best serve to benefit soil and water resources, along with that of communities that reside within the watershed and region.
Economic & Investment Values
Organic feed and food is a growth market with multiple long-term environmental, health, and economic benefits. The use of market drivers and related financial incentives, including public and private financing, and market research and development, along with the incorporation of enhanced, on-site nutrient and stormwater management practices, are pivotal to achieving sustainable economic growth of the organic farming industry.
Education & Outreach
Communication, outreach, research, education, and training to increase knowledge and enhance technology transfer among those operations and organizations working towards the "Healthy Farms, Healthy Soils, Healthy Waters" philosophy are critical to the success of this Initiative.
For more updates on Rodale Institute research and programming, follow us on Facebook, Instagram, and Twitter.