Fiddlehead Farms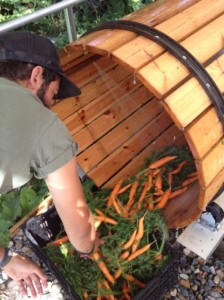 is a small, family farm located in beautiful Corbett, Oregon. Since becoming certified organic, Fiddlehead Farm has seen a huge demand for their certified organic vegetables – in particular, their carrots and beets. They now find themselves on the precipice of being able to transform their small farm into a financially profitable business.
To meet the local demand for their organic vegetables, they often process hundreds of pounds of root vegetables a week, a labor intensive process. Rodale Institute helped Fiddlehead Farm purchase a barrel style root washer. This wooden cylinder cleans crops by jostling them as they are sprayed with powerful jets of water. This equipment will help them realize the full potential of their family farm, allowing them to focus on expanding their operation and getting products to new markets.
For more updates on Rodale Institute's research and programming, follow us on Facebook, Instagram, and Twitter.