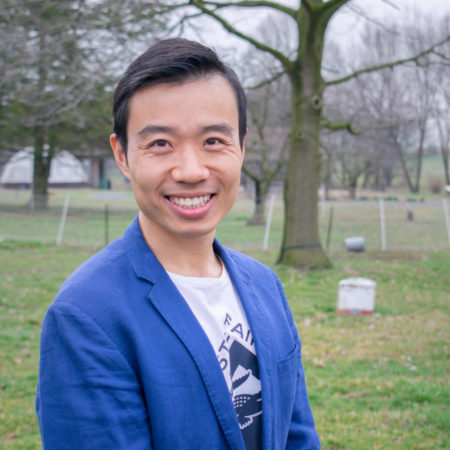 Research Director, Farming Systems Trial
Dr. Yichao Rui is the Research Director of the Farming Systems Trial, the longest-running side-by-side comparison of organic and conventional agricultural systems in North America. He also supports all other soil health-related research, education, and outreach at Rodale Institute.
A major focus of Yichao's research is building greater resilience into our agricultural systems. Using an interdisciplinary research approach, his research evaluates the impacts of climate change, land use, and management strategies on soil health, water quality, biodiversity, and long-term agronomic productivity. In particular, his research has focused on the critical role of soil microbes, the most diverse and complex communities on the planet, in building soil structure, sequestering carbon, and recycling nutrients. With the ultimate goal of improving the health of the planet through regenerative practices, Yichao's research aims to provide evidence-based solutions to both landholders and policymakers.
Yichao holds a B.S. in Biology from Nankai University (China) and Ph.D. degrees in Microbial Ecology and Soil Science from the University of Chinese Academy of Sciences and Griffith University (Australia). Before joining Rodale Institute, Yichao worked at the University of Western Australia and the University of Wisconsin-Madison. He currently chairs the Soil Health Advisory Council of the Regenerative Organic Alliance and sits on the editorial board of the Soil Security Journal.
Selected Publications
Zheng, S., Xia, Y., Hu, Y., Chen, X., Rui, Y., Gunina, A., … & Kuzyakov, Y. (2021) Stoichiometry of carbon, nitrogen, and phosphorus in soil: Effects of agricultural land use and climate at a continental scale. Soil and Tillage Research, 209, 104903.
West JR, Cates AM, Ruark MD, Deiss L, Whitman T and Rui Y (2020) Winter rye does not increase microbial necromass contributions to soil organic carbon in continuous corn silage in North Central US. Soil Biology and Biochemistry, 107899.
Rui Y, Sanford GR, Hedtcke JL and Ruark MD (2020) Legacy effects of liquid dairy manure in grain production systems. Agricultural Systems, 181, 102825.
Ye Y, Rui Y, Zeng Z, He X, Wang K and Zhao J (2020) Responses of soil nematode community to monoculture or mixed culture of a grass and a legume forage species in China. Pedosphere, 30(6), 791-800.
Chen X, Xia Y, Rui Y, Ning Z, Hu Y, Tang H, He H, Li H, Kuzyakov Y, Ge T, Wu J and Su Y (2020) Microbial carbon use efficiency, biomass turnover, and necromass accumulation in paddy soil depending on fertilization. Agriculture, Ecosystems and Environment, 292, 106816.
Jiang L, Wang S, Pang Z, Wang C, Meng F, Lan Z, Zhou X, Li Y, Zhang Z, Luo C, Jones DL, Rui Y and Wang Y (2020) Abiotic and biotic controls of soil dissolved organic nitrogen along a precipitation gradient on the Tibetan plateau. Plant and Soil, 1-14.
Rui Y, Ruark MD, Andraski TW and Bundy LG (2019) Polymer-coated UREA use for corn on irrigated sandy soil. Crops and Soils, 52(5), 4-8.
Che R, Wang S, Wang Y, Xu Z, Wang W, Rui Y and Cui X (2019) Total and active soil fungal community profiles were significantly altered by six years of warming but not by grazing. Soil Biology and Biochemistry, 139, 107611.
Tang L, Zhong L, Xue K, Wang S, Xu Z, Lin Q, Luo C, Rui Y, Li X, Li M and Liu WT (2019) Warming counteracts grazing effects on the functional structure of the soil microbial community in a Tibetan grassland. Soil Biology and Biochemistry. 134:113-121
Rui Y, Ruark MD, Andraski TW and Bundy LG (2018) Assessing the benefit of polymer-coated urea for corn production on irrigated sandy soils. Agronomy Journal, 111: 1-9.
Cai A, Liang G, Zhang X, Zhang W, Li L, Rui Y, Xu M and Luo Y (2018). Long-term straw decomposition in agro-ecosystems described by a unified three-exponentiation equation with thermal time. Science of the Total Environment, 636: 699-708.
Che R, Deng Y, Wang W, Rui Y, Zhang J, Tahmasbian I, Tang L, Wang S, Wang Y and Xu Z (2017). Long-term warming rather than grazing significantly changed total and active soil procaryotic community structures. Geoderma, 316:1-10.
Rui Y, Gleeson DB, Murphy DV and Hoyle FC (2017). Responses of microbial biomass and CO2-C loss to different wetting patterns are temperature dependent in a semi-arid soil. Scientific Reports, 7: 13032.
Che R, Wang F, Zhang J, Zhao X, Rui Y, Xu Z, Wang Y, Hao Y and Cui X (2017). Increase in ammonia-oxidizing microbe abundance during degradation of alpine meadows may lead to greater soil nitrogen loss. Biogeochemistry, 136: 341–352.
Zhong L, Zhou X, Wang Y, Li FY, Zhou S, Bai Y and Rui Y (2017). Mixed grazing and clipping is beneficial to ecosystem recovery but may increase potential N2O emissions in a semi-arid grassland. Soil Biology and Biochemistry, 114: 42-51.
Rui Y, Murphy DV, Wang X and Hoyle FC (2016). Microbial respiration, but not biomass, responded linearly to increasing light fraction organic matter input: Consequences for carbon sequestration. Scientific Reports, 6: 35496.
Creamer CA, Jones DL, Baldock JA, Rui Y, Murphy DV, Hoyle FC, Farrell M (2016). Is the fate of glucose-derived carbon more strongly driven by nutrient availability, soil texture, or microbial biomass size? Soil Biology and Biochemistry, 103: 201-212.