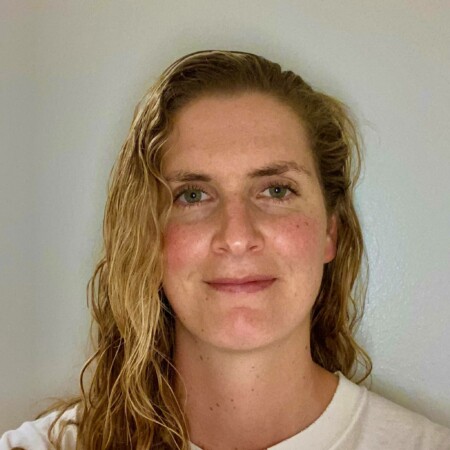 Perennial Systems Scientist
Email: leigh.archer@rodaleinstitute.org
Phone: 610-683-1412
Address: 611 Siegfriedale Rd. Kutztown, PA
Leigh joined the research team in October 2022 as the perennial systems scientist to expand Rodale's efforts in organic orchard and agroforestry systems.
To develop the perennial systems research program, Leigh is exploring fruit and nut species that can be grown in low-input systems that maximize ecosystem health and economic benefits for farmers. She is establishing applied trails that investigate production and management techniques for organic fruit and nut production. Much of her research efforts focus on identifying new and emerging perennial crops that are horticulturally suitable for organic production in different environments. She is developing resources to facilitate the adoption of perennial species while working to quantify the climate-smart benefits of these crops.
Leigh earned her B.S. in Agricultural Sciences at Cornell University with a concentration in sustainable agriculture. She completed her M.S. degrees at the University of California Davis in the International Agricultural Development and Horticulture & Agronomy departments. She moved to the University of Florida for a Ph.D. in Horticultural Sciences focused on citrus tree physiology.
Select Publications
Archer, L., U. Albrecht (2023). Evaluation of trunk injection techniques for systemic delivery of huanglongbing therapies in citrus. HortScience: 17172. https://doi.org/10.21273/HORTSCI17172-23 
Archer, L., S. Kunwar, F. Alferez, O. Batuman, U. Albrecht (2023). Trunk injection of oxytetracycline for huanglongbing management in mature grapefruit and sweet orange trees. Phytopathology. https://doi.org/10.1094/PHYTO-09-22-0330-R
Archer, L., J. Qureshi, U. Albrecht (2022). Efficacy of trunk injected imidacloprid and oxytetracycline in managing huanglongbing and Asian citrus psyllid in infected sweet orange (Citrus sinensis) trees. Agriculture 12:1592. https://doi.org/10.3390/agriculture12101592 
Archer, L., J. Carroll, M. Pritts. (2022). 2022 Organic Production and IPM Guide for Raspberries & Blackberries. New York State Integrated Pest Management Program, 2022-03.
Archer, L., J.H. Crane, U. Albrecht (2022). Trunk injection as a tool to deliver plant protection materials – an overview of basic principles and practical considerations. Horticulturae 8:552.  https://doi.org/10.3390/horticulturae8060552
Archer, L., D. Watson, L. Ferguson, A. Hodson. (2020). Olive mill by-products for organic Verticillium wilt and weed management. eOrganic:34190. https://eorganic.org/node/34190
Costa, L., L. Archer, Y. Ampatzidis, L. Casteluci, G.A.P. Caurin, U. Albrecht. (2020). Determining leaf stomatal properties in citrus trees utilizing machine vision and artificial intelligence. Precision Agriculture. https://doi.org/10.1007/s11119-020-09771-x.
Archer, L., M. Brewer, B. Adhikari, E. Esteves, T. Vashisth, C. Vincent. (2020) Management options for improving flowing in citrus production (#HS1399). Gainesville: University of Florida institute of Food and Agricultural Sciences.
Archer, L., U. Albrecht, and P. Roberts. (2020). Antibiotics in crop production (#HS1366). Gainesville: University of Florida Institute of Food and Agricultural Sciences. https://edis.ifas.ufl.edu/hs1366
Brodt, S.; N. Fontana; L. Archer (2019). Feasibility and sustainability of agroforestry in temperate and industrialized agriculture: preliminary insights from California. Renewable Agriculture and Food Systems 1-9. https://doi.org/10.1017/S1.742170519000140
Moosavi Mahvelati, N., L. Archer, Marino, G., Fichtner, E. and Ferguson, L. (2018). Pistachio inflorescence bud abscission dynamics as a function of embryo weight, crop load and vegetative growth. Acta Horticulturae. 1229, 349-354.