75 Years of Organic Leadership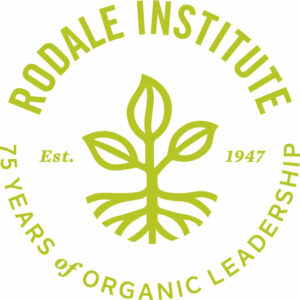 Rodale Institute is 75 years old! Celebrate the past, present, and future of organic agriculture by following our "Why Organic" social media campaign.
Farmers, consumers, activists, environmentalists, and organic fans everywhere are sharing what organic agriculture means to them.
Learn more about the importance of organic agriculture here:
The Past 75 Years
In 1947, J.I. Rodale founded the Soil and Health Foundation, later to be renamed Rodale Institute. From the very beginning, he knew that farming practices focused on cultivating healthy soil would lead to healthier foods, and ultimately, healthier people too.
In those early days, J.I. Rodale's family farm in Emmaus, Pennsylvania was the site of the Institute's first organic research trials and demonstration projects. In the 1970's, Rodale Institute moved to its current site in Kutztown, Pennsylvania which is now home to renowned research projects such as the Farming Systems Trial and the Vegetable Systems Trial, as well as our farmer training programs.
<! ========= Cool Timeline Free 2.7.1 =========>

1942

September 21, 1942

J.I. Rodale begins publishing Organic Farming and Gardening magazine in Emmaus, PA, distributed to more than 12,000 subscribers. J.I. Rodale is considered the pioneer of modern organic agriculture.

1947

September 21, 1947

Rodale establishes the nonprofit Soil and Health Foundation (precursor to Rodale Institute).

1962

September 21, 1962

Silent Spring, a best-selling book by science writer Rachel Carson, documenting the destructive impact of chemical fertilizers, pesticides, and weed killers is published.

1971

September 21, 1971

Rodale purchases the 305-acre (now 333-acre) Siegfried Family Farm in Maxatawny, PA, and calls it the New Farm. The property was later named Rodale Research Center and then Rodale Institute.

1972

September 21, 1972

The International Federation of Organic Agriculture Movements (IFOAM) is formed during an international congress on organic agriculture organized by the French farmer organization Nature et Progrés.

1973

September 21, 1973

The first third-party organic certifier, California Certified Organic Farmers, is founded.

1978

September 21, 1978

First issue of New Farm magazine. Organic Farming and Gardening magazine becomes Organic Gardening.

1981

September 21, 1981

First year of the Rodale Institute Farming Systems Trial, now the longest running side-by-side comparison of organic versus conventional agriculture, begins right here in Pennsylvania.

1990

September 21, 1990

The Organic Foods Production Act is passed by Congress as part of the Farm Bill.

It called for the establishment of national standards governing the marketing of organic products.

2000

September 21, 2000

After 10 years of debate, the final National Organic Standards rule is published in the Federal Register, establishing standards for organic certification in the United States.

2008

September 21, 2008

The U.S. Farm Bill allocates $78 million for organic agriculture research and education.

2015

September 9, 2015

The Vegetable Systems Trial is created to track the degradation of soil and its impact on human health by comparing the nutrient density of organic and conventional produce.

2015

September 21, 2015

U.S. organic sales top $43 billion, and more than 22,000 certified organic businesses operate in the United States. Pennsylvania has 85,164 acres of organic farmland. PA has the largest growth in organic sales of any state in the nation from 2011 to 2015.

2018

September 4, 2018

Rodale partnered with the Pennsylvania Department of Agriculture to launch an Organic Consulting service to provide support to farmers transitioning from conventional to organic. This program is the first in the nation, and Rodale Institute has expanded it to offer services to farmers across the country.

2020

September 1, 2020

The first Regenerative Organic Certified (ROC) products hit the market. ROC certification goes beyond USDA organic, ensuring customers their purchase supports farms dedicated to reducing synthetic fertilizers, improving soil health, animal welfare, and worker fairness.