Rodale Institute Certified Advisor Program
Help farmers transition to organic, with the expertise of Rodale Institute behind you.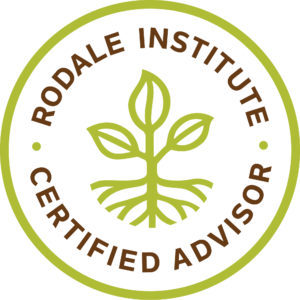 Transitioning farmers look to trusted advisers for technical and regulatory support during their transition period. To continue expanding Rodale Institute's influence and positive message, Rodale Institute is launching the Rodale Institute Certified Advisor program to expand our capacity for outreach and build upon the success of the Organic Consulting Program.
Under the management of our Organic Consulting team, these independent advisers will play a vital role in helping to fundamentally change our agricultural system for the better. Learn more about how to obtain this certification today.
The 2021 pilot cohort of Rodale Institute Certified Advisors is full. Please check back for information on future openings.
How Does It Work?
Participants in the Rodale Institute Certified Advisor program will be tasked with using the research & educational tools of Rodale Institute to assist farmers in their organic transition. Here's how the certification process works:
Submit an application to Rodale Institute that includes information on educational and professional experience
Once an application is accepted, participate in an educational virtual course
Complete an exam that certifies knowledge of regenerative organic methods, implementation, and advising capabilities
Upon completion, participants will work with Rodale Institute's Organic Consulting team to be paired with prospective & current clients in their geographical region.
Grow With Us
Our Organic Consulting Training Portal will launch soon. Explore our other educational offerings, including the "Transition to Organic" course, today on our Virtual Campus.
Visit Our Virtual Campus